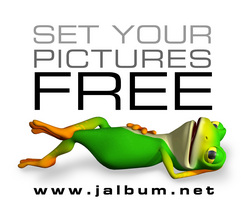 Adding photo editing to Jalbum is a natural step, since most users want to use one tool for their photo management. Answering 25,000 user e-mails gives me a good idea of what our users are looking for
(PRWEB) May 22, 2008
Affordable digital cameras and camera phones continue to improve in quality and ease-of-use. More pictures are taken than ever before, yet most people haven't found a convenient way to share their digital media. E-mail is still the primary method of sharing images with family and friends, which comes with the hassle of scaling the images first or sending large original files in several e-mails. With this release of Jalbum, these problems are history: one tool for editing, organizing and sharing photos.
Community driven development
Jalbum has become immensely popular; currently 4 million downloads and started every 4 seconds globally. More than 10 million albums have been published with Jalbum. The key for Jalbum's rapid growth has been enabling an open source community to contribute. The massive global Jalbum community covering Europe, USA, Asia and Australia is highly active in supporting development both of the dynamic photo sharing site (http://www.jalbum.net) and the software with translations (32 languages), plug-ins and support of the product.
"Adding photo editing to Jalbum is a natural step, since most users want to use one tool for their photo management. Answering 25,000 user e-mails gives me a good idea of what our users are looking for," says David Ekholm, Jalbum's founder.
###