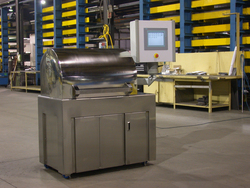 After researching the medical cleaning field, we realized that the standards we had help set for the automotive industry were as clean, or cleaner, than the standards in the medical field
Jackson, MI (Vocus) May 22, 2008
Michigan is a state that relies heavily on the automotive industry. When the automotive industry slumps, manufacturing business in the state is also prone to falling into a slump. Companies that can diversify their business plan and use their expertise in other industries are able to divorce themselves from the ups and downs of the automotive business, strengthening the overall economy of the state and their own individual enterprise. If a company is willing to step outside of their comfort zone, there is a wealth of opportunities available.
During the recent struggles of the automotive field, both the Michigan state government and the federal government initiated programs to encourage state businesses to diversify. The Great Lakes Trade Adjustment Assistance Center (at the state level) and the Automotive Manufacturing Assistance Program (at the federal level) reward Michigan businesses with sizeable grants if they can create a well constructed, carefully considered business plans for diversification.
Midbrook Cleaning Systems, based in Jackson, Michigan, was awarded grants through both of these programs as a result of their venture into the medical cleaning field. Representatives from the medical industry approached Midbrook after the company management team attended a conference on medical manufacturing. The representatives researched Midbrook and discovered the company had a global reputation as a leader in the industrial parts cleaning field, working with numerous automotive companies and suppliers to produce clean parts for the manufacturing process. The medical representatives were curious if Midbrook could transfer their cleaning expertise from the industrial field and into the world of medical cleaning.
Medical tool cleaning requires that surgical tools and other equipment be cleaned of biomass and debris before they can be sterilized. Current medical cleaning standards have not kept pace with the actual cleaning technology. The same methods, equipment, and standards have been used in medical cleaning even as the tools being cleaned have become more advanced.
"After researching the medical cleaning field, we realized that the standards we had help set for the automotive industry were as clean, or cleaner, than the standards in the medical field", says Todd Lutz, Business Development Manager for the medical expansion.
"We decided to branch out into the medical arena, and use our expertise from 30 years of industrial cleaning to bring a fresh perspective with us."
Midbrook will be offering four new machines in their Midbrook Medical Cleaning line. The centerpiece will be the ultrasonic washer for laparoscopic surgical tools. Further, Midbrook is developing medical cart washers, sonic washers, and instrument washers that will feature patented technology currently unavailable in the medical cleaning field. This advanced technology will significantly upgrade the level of cleaning that can take place in medical operations.
"Competition in the medical cleaning field is tough and we understand that Midbrook has some challenges to overcome in asserting ourselves", says Lutz, "but with our state of the art technology and industry expertise, we feel our products will be able to open some eyes."
###