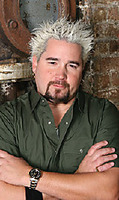 I can't even begin to tell you what a small glimpse of a husband, son, wife or daughter means to families of those overseas
New Orleans, LA (PRWEB) May 22, 2008
Popular Food Network host Guy Fieri will share highlights of his recent visit with U.S. troops in the Persian Gulf exclusively on Food Network On Demand, July 4 through August 4. This video-on-demand special is a prime example of Scripps Networks' multiplatform approach to content delivery.
Fieri traveled the Persian Gulf to cook for and entertain U.S. troops. Families back home will see many of the deployed troops and the conditions under which they operate. In addition, visitors to FoodNetwork.com will have access to 10 cooking segments and several of the recipes featured on the program.
"I can't even begin to tell you what a small glimpse of a husband, son, wife or daughter means to families of those overseas," said Fieri. "To see that their soldiers are safe and able to enjoy themselves with good food and laughter was quite an experience for me, plus the opportunity to meet the culinary professionals who are serving thousands upon thousands of meals a day."
Fieri, who won the second season of Food Network's popular series The Next Food Network Star, and hosts Diners Drive-Ins and Dives and Guy's Big Bite, visited with troops on several naval vessels. While on the USS Wasp, Fieri helped judge an "Iron Chef" competition, highlights of which will be included in the VOD special. Fieri has become very popular among Food Network viewers -- Diners, Drive-ins and Dives is one of the network's highest-rated shows.
FOOD NETWORK is a unique lifestyle network and Web site that strives to be way more than cooking. The network is committed to exploring new and different ways to approach food -- through pop culture, competition, adventure, and travel -- while also expanding its repertoire of technique-based information. Food Network is distributed to more than 96 million U.S. households and averages more than seven million Web site users monthly. With headquarters in New York City and offices in Atlanta, Los Angeles, Chicago, Detroit and Knoxville, Food Network can be seen internationally in Canada, Australia, Korea, Thailand, Singapore, the Philippines, Monaco, Andorra, Africa, France, and the French-speaking territories in the Caribbean and Polynesia. The E.W. Scripps Company (NYSE:SSP), which also owns and operates HGTV, DIY Network, Great American Country and FINE LIVING, is the manager and general partner.
Contact:
Lee Hall
Director of Media Relations
865.560.3853
lhall @ scrippsnetworks.com
Cindy McConkey
SVP of Corporate Communications
865-368-3976
cmcconkey @ scrippsnetworks.com
###