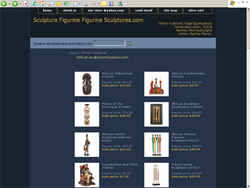 At FigurineSculptures.com, we believe customers shouldn't have to shop at a store where they are second in line
Fairfield, OH (PRWEB) May 22, 2008
FigurineSculptures.com arrives at a time when gas prices are high, and the desire to drive from store to store is extremely low. FigurineScupltures.com provides a more economical choice for consumers looking for a wide variety of products, but not wanting to make a large number of trips. In addition, FigurineSculptures.com operates a user-friendly, customer-centric website, featuring Yahoo Messenger for comments and questions as well as a people-oriented staff that is available to assist customers.
"At FigurineSculptures.com, we believe customers shouldn't have to shop at a store where they are second in line," says Brian Carter, owner of FigurineSculptures.com, "At FigurineSculptures.com each customer is always first, always number one, no matter what their needs are."
Carter's statement regarding needs is fitting because FigurineScupltures.com caters to an extremely wide variety of them. Whether customers are looking for American Indian home décor, MP3 players, or the Dreamgear Shredmaster Wireless Guitar for PS2, they can find those items and more at The House of Sculpture Figurine.
"We are a people-oriented website," says Carter, "Shoppers of all ages, male or females, are welcome to browse, shop, comment, and make suggestions for improvement. Whether they're looking for mini dragon figurines or outdoor garden fountains, we simply want our customers to enjoy our website."
Statements like these are why Brian Carter, owner of FigurineSculptures.com, is successful. Carter is a pillar in his community; he is family oriented with a strong commitment to people. His attitude towards others has also made him successful in his chosen professional life. The grand opening of FigurineScupltures.com embodies Carter's business and personal philosophies, and Carter believes that will distinguish him from other online merchants.
The website is hosted by Yahoo! Store, which manages the store's pages, ordering system and stores all order data. Customers are protected by the Yahoo! Privacy Policy, which is available for viewing at FigurineSculptures.com. For more information or to purchase American Indian Home Décor, African small figurines, or Apple iPods, visit FigurineSculptures.com.
About The House of Sculpture Figurine:
The House of Sculpture Figurine is located online at FigurineSculptures.com, and specializes in African small figurines, a varied selection of gifts, and home and garden decorations. FigurineSculptures.com offers the latest selection of video game releases, and carries Playstation PSPs as well as other brand name products and operates on a user-friendly, customer-centric platform.
###