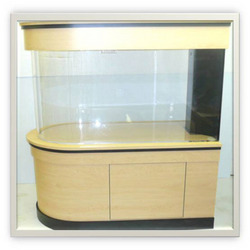 Tenecor is emerging as a worldwide leader in taking aquarium designs to the next level of evolution, creating solutions for the novice as well as the enthusiast
Phoenix, AZ (PRWEB) May 21, 2008
Tenecor Aquarium's design team today announced that they will be debuting a new series of tank and cabinetry designs at the biennial International InterZoo show in Nuremberg, Germany. New open top or "Euro-Braced" style aquariums with extra thick and impressive side walls will be displayed in styles ranging from Cylinders to Bull Noses, or "Bullet", style tanks. Tenecor has also created a line of Milan designed cabinetry in collaboration with Limulus Italy, the renowned lighting manufacturer and Tenecor distributer, to appeal to the European and high-end US markets.
These recently unveiled designs have spurred installations and mass purchases of aquariums at companies such as Aquatic Adventure, Petland, RaSushi Resturants, TutorTime, Alaska Wildlife Refuge, Petline-Greece, and the Steinhart Aquarium, as well as several large corporations and government agencies. Tenecor believes that their recent large scale implementations and worldwide reputation for quality, coupled with their cutting edge new European designs, will enable them to enlarge their previous inroads into the European and Middle Eastern markets.
Record Rate of Demand in the European Markets
Tenecor has seen a tremendous growth in European demand for its custom aquarium products ranging from residential consumers to commercial installations including fountains and water features in addition to its traditional aquatic exhibits. This has been due to a combination of the weakened US Dollar and the emergence of Tenecor as an internationally recognized aquatic design, engineering, and implementation firm.
"Tenecor is emerging as a worldwide leader in taking aquarium designs to the next level of evolution, creating solutions for the novice as well as the enthusiast" said Kevin Romano, sales director at Tank's Aquariums, a large US online retailer, "Tenecor is designing the aquariums as an integral component of a home or commercial property, just as one would in a public aquarium setting."
Tenecor Aquariums Availability
Tenecor aquariums are available through Limulus in Italy and surrounding regions as well, as Tenecor's 3400+ worldwide authorized reseller and installer network. Please contact a local reseller or contact Tenecor directly at http://www.tenecor.com or +1.602.437.4373 or toll free in the US at 800-826-5430 for a reseller or installation expert nearest to you. Tenecor's recent membership in the Association of Zoos and Aquariums also makes access to Tenecor products easier for public and private aquariums via http://www.aza.org.
Founded in 1985, Tenecor Aquariums is the worldwide leader in custom acrylic aquariums for residential, commercial, and public venues. The company offers a wide range of standard and custom products, as well as, design, engineering, and installation services to allow individuals and companies to realize their aquatic vision easily, efficiently, and with unsurpassed quality.
Limulus has, since 1988, been a leader in computerized lighting systems for aquariums. Since their first appearance at InterZoo, they have continued to create innovative and elegant lighting solutions for both home and commercial clients. Limulus prides itself on the quality of its products as well ass its attentiveness to each customers unique needs.
For more information, press only:
Tenecor, William Miceli, +1.602.437.4373, miceli(at)tenecor.com
Limulus , Roberto Buti, +39 030395097, roberto.buti(at)limulus.it
For more information on Tenecor Aquariums and Limulus Offerings:
http://www.tenecor.com/
http://www.limulus.it/
###