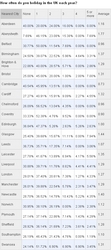 Cardiff, UK (PRWEB) May 23, 2008
In fact, Londoners - often mocked for their patchy 'local' knowledge - far exceed the UK's average of almost 1 in 3 (32%) holidaying in the UK more than once a year; a myth further dispelled by the fact that more than 1 in 4 (28%) Londoners actually travel between 200 and 600 miles when on holiday in the UK.
Several of the UK's larger cities show a greater than average level of UK-holidaying, with more than 1 in 3 people in Birmingham (37%), Manchester (34%), Sheffield (35%) and Newcastle (35%) opting for a UK break more than twice a year. In fact, 1 in 10 (10%) Geordies enjoy a UK holiday more than four times a year.
The Scottish appear to be the least keen to explore the British isles, with 34% of those in Edinburgh and 24% of those in Aberdeen claiming to never opt for UK breaks.
Debra Williams, managing director at Confused.com, said:
"Despite the fact that foreign travel is becoming increasingly inexpensive, nearly 3 in 4 (72%) people holiday in the UK at least once a year, proving that the days of Londoners heading to Brighton and Geordies heading to Skegness may not have been confined to the history books.
"With driving the UK's favoured mode of transport, when it comes to short-haul breaks, it is important for drivers to become increasingly vigilant on the roads, as the Great British Getaway steps up a gear with the May Bank Holiday and summer fast approaching. Leaving early to avoid panic and stress, planning your route, and keeping your eyes on the road at all times are absolute necessities. By doing all that you can to avoid misdemeanours and accidents, drivers will be able to keep their car insurance premiums to a minimum."
Notes to editors
About Confused.com:
Confused.com is one of the UK's biggest and most popular price comparison services. Launched in 2002, it dominates the car insurance aggregator market and generates over one million quotes per month. It has expanded its range of comparison products over the last couple of years to include home insurance, travel insurance, pet insurance, van insurance, motorbike insurance, breakdown cover and energy, as well as financial services products including credit cards, loans, mortgages and life insurance.
Confused.com is not a supplier, insurance company or broker. It provides its customers with a free, wholly objective comparison service to help with their decision making. Using cutting-edge technology, Confused.com has developed a series of intelligent web-based solutions that evaluate a number of risk factors to help customers search, buy and apply for whichever product or policy best matches their individual needs. Its service is based on the most up to date information provided by UK suppliers and industry regulators.
Confused.com is owned by the Admiral Group plc. Admiral listed on the London Stock Exchange in September 2004. Confused.com is regulated by the FSA.
# # #