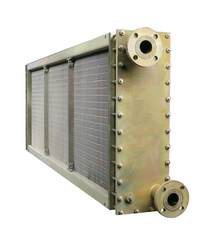 The Hottest Name in Cooling
London, Ontario (PRWEB) May 22, 2008
Unifin, http://www.unifin.com, a world-leading supplier of Cooling Equipment and transformer oil pumps and valves to the Power Generation and Power Transformer industries, announces its line of Removable Cover Plate (RCP™) Generator Coolers for superior performance in the most demanding applications. Unifin RCP™ Generator Coolers are widely used in new and existing power generation installations, from nuclear to Hydro-electric to gas turbine power. Applications include both air cooled and hydrogen cooled Generator Coolers.
Various nozzle orientation in the Generator Coolers fit existing Hydro-electric installations without any modification.
Today's electrical Generator Coolers produce not only electricity, but also heat from conductor resistance and from friction losses in the bearings. Unifin's RCP™ Generator Coolers effectively and reliably remove this heat, in a system that is easy to clean and maintain.
The Unifin RCP Generator Coolers have been developed as heavy duty industrial-quality cooling coils as distinct from lightweight ventilating or air-conditioning units.
The RCP™ Generator Coolers feature Unifin's industry-best plate fin technology, which provides optimal heat transfer efficiency and exceptional durability for the best in Cooling Equipment. Other fin surfaces are also available from Unifin. A removable, bolt-on cover plate facilitates access for cleaning while keeping the Generator Cooler installed, without disturbing the piping.
Although standardized in basic designs, Unifin RCP Generator Coolers and other Cooling Equipment can be made with optional features and materials to suit exact customer requirements.
Unifin RCP™ Generator Coolers deliver enhanced reliability in Hydro-electric power generation applications. A unique leak detector configuration is available to prevent catastrophic failure of the motor or generator. The detector senses moisture before it can leak into the air. The Unifin leak detector system consists of a unique full double-tube construction, which provides additional protection against possible leaks caused by tube erosion.
For more information about Unifin's superior performance RCP Generator Coolers for the most efficient Heat Transfer for all overheating transformer applications in the Power Generation and Power Transformer industries, and to see additional Unifin Cooling Equipment, please visit http://www.unifin.com/prodB1.asp?m=cascadeList,B.
About Unifin
Unifin International, http://www.unifin.com, "The Hottest Name in Cooling," has been an innovative designer and manufacturer of heat transfer products for many years. Now a world-leading supplier of Transformer Oil Coolers and Pumps to the Power Generation and Power Transformer industries, the company has also emerged as a premier supplier of Large Power Generator, TEWAC Motor and Power Transformer Cooling Equipment. Headquartered in London, Ontario, Unifin is a part of Koch Industries Group, one of the largest privately held companies in the world. For more information on Unifin International and its complete line of heat transfer products, visit http://www.unifin.com or call 1-888-451-0310.
# # #