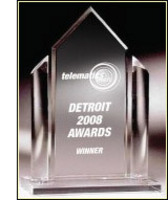 We are honored to receive the Best Aftermarket Device Award for the Atlas CPC-1000 Car PC.
Detroit, MI (PRWEB) May 22, 2008
Azentek, today announced it has won the "Best Aftermarket Device" award for its Atlas CPC-1000, the industry's first all-in-one fully integrated in-car multimedia PC. At an exclusive gala dinner in Detroit, Michigan, Telematics Update Magazine revealed the winners of the sixth annual Telematics Awards on the evening of May 20th.
Every year the Telematics Awards, organized by the telematics industry's only global print publication - Telematics Update - recognizes and celebrates the key companies that are driving the industry forward and pushing the boundaries in automotive and GPS technology. The nominated entries were judged by a selection of independent consultants and industry experts.
The award categories include Best Embedded Telematics Service; Best Embedded Telematics Navigation Product; Best Portable Telematics Solution; Best Portable Navigation System; Best Aftermarket Device; Best Telematics Component Solution; Best Use of Telematics Technology for the Public Sector; Best Telematics Service & Application for Commercial Vehicles; Global Car Manufacturer Innovation; and the 2007-2008 Industry Newcomer Award. Several of the companies nominated for awards include Microsoft, Clear Channel, BMW, Hyundai Autonet, Magnetti Marelli, Ford Motor Company, OnStar, Nissan, XM Satellite Radio, T-Mobile, Garmin, Audi, and LoJack.
At an MSRP of $2,799, Azentek's Atlas CPC-1000 is built on Intel™ architecture with a Core Duo processor running the Microsoft Windows Vista operating system and features a very long list of computing and entertainment capabilities including voice recognition, CANbus integration, Bluetooth, AM/FM/Satellite Radio, HD Radio, CDRW/DVD/MP3/WMA, GPS navigation, built-in WiFi, and much more!
"We are honored to receive the Best Aftermarket Device Award for the Atlas CPC-1000 Car PC." stated John Cooper, Azentek's President & CEO. "It's a fact that people are spending more time in their cars than ever-before. On a quest to make time spent in the car more productive and safe, Azentek is dedicated to providing you with the latest entertainment, business tools, GPS navigation, and automotive diagnostics capabilities at your finger tips."
Precksha Saksena, Project Director for Telematics Detroit 2008 commented "The winners of the 2008 awards will be celebrated as true leaders, not only for great products, but also for taking risks, backing innovation and pioneering overall industry growth and development."
About Azentek:
Azentek is an OEM of innovative in-vehicle computer systems for both the consumer and commercial markets, including the private labeled FordLink™ system currently available in Ford trucks. After spending years in the development and testing phases, Azentek's revolutionary in-dash PC product line will now be ready to ship in late 2008, with features never-before seen from any mobile electronics manufacturers. For more information, please visit http://www.azentek.com.
###