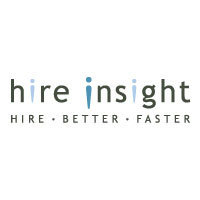 Hiring managers want much more than a faster way to screen resumes. They want quality information to help them make the right hiring decision, quickly and confidently.
Calgary, AB (PRWEB) May 22, 2008
Although most hiring managers would agree that selecting the right employees is the key to building a successful business, nearly all wish they could avoid the time, costs and frustration required to screen and evaluate suitable candidates.
In response, Hire Insight Group has developed a program that allows employers to outsource all of the most tedious steps in the hiring process and receive a shortlist of only those with the best potential to become top performers (i.e., those who contribute 48% to 120% more than the average employee).
The program was developed in response to common employer complaints and research that showed the considerable time and cost required to find and shortlist a pool of applicants using traditional methods -- anywhere from nine to 15 weeks for professional, managerial and executive positions, with the entire process costing between $17,000 and $43,000. Many employers have found these statistics to be fairly conservative and an underestimate of investments that will soon be required as the number of available applicants decreases in the wake of massive baby boomer retirements.
The majority of service providers have responded by developing automation technology (e.g., applicant tracking systems), but firms like Hire Insight are going further – allowing employers to outsource most of their hiring process to a team of assessment experts who will run all applicants through a proven screening and evaluation program, tailored to client needs. The result is a shortlist of only the most capable individuals, with comprehensive information on candidate success and potential provided by people who can best predict employee performance.
"Technology providers are performing a great service, in terms of saving administration time, but they do little to increase employer confidence," says Chad Hayward, Assessment Director for the Hire Insight Group. "Hiring managers want much more than a faster way to screen resumes. They want quality information to help them make the right hiring decision, quickly and confidently."
Instead of providing the next piece of automation technology, Hire Insight allows companies to outsource their entire screening and evaluation process to experts in the field of employee assessment who have access to the latest tools and methods. The result is a significant savings of time and money, and much greater confidence in candidates' potential for success.
The high level of dissatisfaction among hiring managers suggest that there is real opportunity for companies who offer this type of solution. When DDI and Monster surveyed 628 staffing directors and 1,250 hiring managers in 2007, fewer than half stated that they were satisfied with current selection systems. At least two-thirds expressed dissatisfaction with the efficiency of hiring systems, even with access to automation technology to help organize and track applicant information.
Other key issues included an overreliance on traditional methods like application forms, manual résumé screening and background checks – techniques that research indicates are very time-consuming and poor predicators of job success. More than 250 staffing directors planned to significantly change their selection practices within two years of the survey, potentially looking to firms like Hire Insight to provide a more efficient and effective alternative.
About Hire Insight
Hire Insight is a firm of assessment professionals that helps clients throughout North America quickly identify candidates with a high potential for job success. Ultimately, selection decisions are made in a fraction of the average hiring time and with a much higher level of confidence in candidates' future performance than would be the case with traditional methods or other third-party agencies.
The key to the firm's success is its rigorous candidate screening and evaluation program, which can be completed on applicants anywhere on the continent, and includes objective and professional assessments of cognitive ability, expertise and experience, work-related personality traits, motivation factors, and development needs. All of this information is then verified by experts through structured behaviour-based interviews and 360-degree feedback from candidates' former superiors, peers, clients, and direct reports. As a result, only the very best candidates in a particular field are presented to clients for consideration.
For more information, visit http://www.hireinsightgroup.com.
Contact: Chad Hayward
Phone: (403) 698-5609
995 New Brighton Gdns SE
Calgary, AB T2Z 0A2
This press release was distributed through eMediawire by Human Resources Marketer (HR Marketer: http://www.HRmarketer.com) on behalf of the company listed above.
# # #