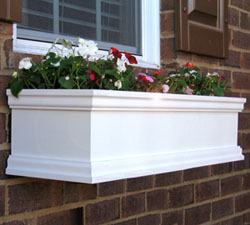 We've made window boxes up to 12 feet in length for customers and we always ship our custom window boxes out in less than a week. There's no other company out there doing what we're doing at our speed and price. In many instances, we have beat out the prices of vinyl window boxes and our window boxes are generally considered an upgrade
Cumming, GA (PRWEB) May 22, 2008
Up and coming decorative window box company, Flower Window Boxes has moved to a new, larger 1500 sf location. As of May 16, 2008 Flower Window Boxes is operating business out of 4360 North Industrial Dr, Suite 500 located in Cumming, GA 30041. Flower Window Boxes specializes in custom window boxes and no rot PVC window boxes. They offer a unique alternative to wood for people looking to add a decorative touch to their windows, without having to worry about a lot of maintenance or rot. By using no rot materials they are able to duplicate the look and feel of wood window boxes, but without the hassles and worries. Flower Window Boxes offers custom window boxes that can be tailored to any measurements and offer safe and easy installation. "We've made window boxes up to 12 feet in length for customers and we always ship our custom window boxes out in less than a week. There's no other company out there doing what we're doing at our speed and price. In many instances, we have beat out the prices of vinyl window boxes and our window boxes are generally considered an upgrade," says owner Matt Buquoi.
PVC window boxes are considered to be an upgrade over vinyl due to their ability to be painted and look like wood as well as the fact that they are made from solid material and can be installed in a safer manner. Since the PVC is 100% moisture resistant, it's ideal for applications such as window boxes and they are considerably more affordable than the rival fiberglass window boxes. Plus, since they have a matted finish they look like wood and they have quickly become the gold standard in the window box industry.
Owner Matt Buquoi started the PVC window box company in his basement at the beginning of April 2008 and in just six weeks has already outgrown his basement. "My neighbors were starting to ask why FEDEX was picking up 50 packages a day from my house. I figured it was time to move out." As a new startup company, Flower Window Boxes has seen tremendous growth and was even featured on The Today Show as a part of a Home Upgrade segment on May 19. The window box company is 100% internet-based and what started with one employee has grown to 3 additional people to help with all aspects of the business. The flower box company hopes to continue to see growth as they look to expand their window box products into other aspects of custom home décor, such as outdoor planters.
Flower Window Boxes has been partnering with Atlanta SEO and Web Marketing to increase their online traffic. Atlanta SEO and Web Marketing helped them design their website and get to get their first online sale only 6 hours from their initial launch. They specialize in search engine optimization and advertising for small businesses and startup companies both locally and nationally.
http://www.flowerwindowboxes.com
# # #