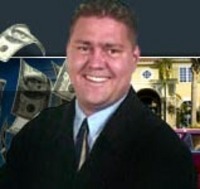 My goal with this website is to give people the leverage of getting first-hand knowledge from someone already successfully working these passive income streams. I share my actual portfolio and investments so people can see what works and what doesn't
Orlando, FL (PRWEB) May 22, 2008
Scott Robinson of Scott Robinson Inc., an online business aimed at helping others generate passive income, announced recently the creation of a new website and monthly newsletter.
Robinson has spent most of his career researching passive income opportunities and establishing valuable contacts within the industry. The Scott Robinson Inc. website lists actual passive income business ideas from Robinson's personal business portfolio. It features companies that have already established a proven track record for legitimately generating passive income and helping people make money online.
"My goal with this website is to give people the leverage of getting first-hand knowledge from someone already successfully working these passive income streams. I share my actual portfolio and investments so people can see what works and what doesn't," says Scott Robinson.
Robinson's portfolio includes everything from managed foreign exchange accounts and paid-to-surf companies to cooperative marketing and international real estate. Readers get a detailed look at each program, what minimum requirements are necessary to begin investing and what the average rate of return has been in the past.
Robinson's newsletter, The Scott Report, is currently being offered with no subscription charges as part of a limited introductory offer (almost a $100 value.) This monthly email report goes into even further detail on each of the passive income streams featured on the website with updated investment numbers and performance reports. The report also includes lists of Internet scams, success stories and access to Robinson's private financial blog.
"My goal is to earn the highest possible returns after sifting through all the junk, doing tons of due diligence, and then be the first to 'jump in.' Then I report all the details back to my readers," said Robinson.
Newsletter subscriptions can be obtained by visiting the Scott Robinson Inc. website and signing up for the introductory offer.
About Scott Robinson: Scott Robinson is a successful passive income specialist who has created an online program designed to help others create residual income and generate passive income fortunes online.
Media Contact:
Scott Robinson
789 Park Manor Drive
Orlando, FL 32825
888-384-4824
http://www.scottrobinsoninc.com
# # #