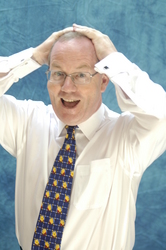 There are a number of treatment options available ranging from radiation to prostatectomy, in other words the removal of the prostate
Naperville, IL (PRWEB) May 26, 2008
Cancer is not funny, but keynote speaker and business humorist Conor Cunneen has developed an inspirational, fun-packed keynote speech about his prostate cancer experience. It is probably only a Chicago-based Irishman who could develop a keynote titled "It's Just a Flesh Wound" about the experience of prostate cancer.
Cunneen was diagnosed early 2007. "There are a number of treatment options available ranging from radiation to prostatectomy, in other words the removal of the prostate," he said in his light lyrical brogue. Prostate cancer develops slowly so the former Marketing VP had time to consider his options. "I did a lot of research on the topic, spoke to a lot of people and ultimately opted for the prostatectomy. My information systems, i.e., my wife, advised I had to purchase new pajamas for the hospital, so that is why I entered Northwestern Memorial Hospital with pajamas bearing the Monty Python legend 'It's Just a Flesh Wound.' I've been blessed with a great attitude and I believe every cloud does have a silver lining. As a result, I created a keynote of the same title. It is perfect for all conferences and events where an uplifting feel-good message is appropriate, which is basically everywhere."
The National Cancer Institute estimates up to 186,000 men will be diagnosed with prostate cancer this year. While prostate cancer does not have to be life-threatening, almost 30,000 men die from the disease each year.
This is Cunneen's second bout with cancer. "I had thyroid cancer some years ago when living back in Ireland. The whipped that out as well. I tell my audiences when I keynote that having had a prostatectomy and a thyroidectomy, I now have a unique Irish condition called 'there's not much left-o-me.'"
This ebullient Irishman's communication style has been likened to an "Irish Dilbert," and "James Joyce meets Tom Peters." His keynotes combine business experienced garnered in Ireland, UK and USA with a truly impish sense of humor. "As a keynote speaker and business humorist, I endeavor to provide Substance with Humor. I often develop purely humorous business material which I can then weave into serious business messages. That is when it becomes a real win-win."
He has the pedigree to back it up. A native of County Cork, his proudest moment was when he won the coveted Chicago Toastmasters Humorous Speaker of the Year award for a speech on customer service in San Quentin jail. "That was a blast and a great career catalyst also. Since then I have spoken internationally in places as diverse as Helsinki, Madrid, London, Malaga and Glasgow."
For additional information on the news that is the subject of this release, contact Conor Cunneen or visit http://www.irishmanSpeaks.com.
About Conor Cunneen:
Conor Cunneen is a Chicago-based keynote speaker and business humorist. Clients include Harley-Davidson, Siemens, Abbott. He is author of Why Ireland Never Invaded America and has been published numerous times in USA, Ireland, UK and Australia. He co-hosts a weekly show on Chicago local radio, JobTalk, which is geared to those in job search and transition. Cunneen has achieved Toastmasters International highest educational qualification, Distinguished Toastmaster, and is the 2008 recipient of the Nick Carter award from the Illinois National Speakers Association award for a "member's unrelenting enthusiasm and commitment to the speaking profession."
Keynotes include:
Why Ireland Never Invaded America (and other lessons to GROW your business)
Leadership Lessons from the McDonald's Turnaround
The Gift of GAB - How Goals, Attitude and Behavior can give you that Top O' the Morning Feeling
It's Just a Flesh Wound
Contact:
Conor Cunneen
Phone: 630 718 1643
Cell: 630 661 1220
http://www.irishmanspeaks.com/
# # #