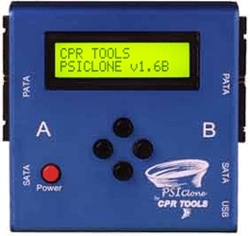 San Marino, CA (PRWEB) May 27, 2008
Data Devices International, a leader in the data security industry, has launched the PSIClone™, a hand-held hard drive cloning and forensic tool that can be used to verify whether a hard drive has been completely degaussed.
"The greatest risk to any computer user is allowing your sensitive data to fall into the wrong hands. Before a hard drive is disposed of or redeployed, it needs to be erased so that your data can't be recovered. Our degausser customers have been asking for a fast and easy way to verify that their hard drives have been completely erased. The answer is the PSIClone," said David Partridge, President of Data Devices International. "It's easy. Plug the degaussed drive into the PSIClone. It will let you know if there is recoverable data on the drive or not. This is one of the best hard drive forensic tools on the market today, designed by software engineers who specialize in data recovery."
With increasingly stringent laws regulating the disposal and treatment of electronic data - such as the Sarbanes-Oxley Act, the Health Insurance Portability and Accountability Act (HIPAA), and the Gramm-Leach-Bliley Act - companies and organizations need to be vigilant about how their sensitive data is processed, redeployed, discarded and destroyed. Degaussing is one of the best solutions for decommissioned hard drives. Degaussing in conjunction with the PSIClone's hard drive erasure verification is one of the best combinations available today for physical data security.
The PSIClone is a hand-held device that plugs directly into a computer via USB cable and is easily managed using the CPR Toolbox companion software. Every session is logged, so the user has a complete audit trail, which is easily printed through your computer.
Not only does the PSIClone function as a hard drive erasure verification tool, it also clones with built-in write blocker, images, and erases hard drives. This hand-held unit is ideal for any computer forensic toolkit.
If the PSIClone does detect data on the drive, then it can be configured to do a software overwrite of the drive so the data will be unrecoverable.
Once a department has verified its hard drives are completely erased and the data is unrecoverable, the drives are ready to be handed off to a third party for recycling, physical destruction or disposal.
The PSIClone is designed and manufactured by CPR Tools, experts in the field of data recovery for nearly three decades.
Data Devices International, Inc. is a leader in the field of data security products and services that specializes in degaussers, hard drive duplicators & erasers, computer tape equipment, and industrial shredders. Product specifications for the PSIClone can be found at http://www.datadev.com.
###