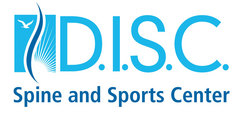 This conference will provide women who are challenged daily with persistent pain the essential tools and resources to become better advocates for their pain care and ultimately improve their quality of life.
Marina del Rey, Calif. (Vocus) May 23, 2008
D.I.S.C. Spine and Sports Center proudly announces a new partnership with the For Grace nonprofit as a sponsor of the inaugural "Women In Pain: Gender Matters Conference" scheduled for May 30, 2008 at the City of Hope Medical Center in Duarte, Calif. The event is being co-sponsored by City of Hope and Southern California Cancer Pain Initiative are co-sponsors of the event.
As part of the sponsorship, D.I.S.C. is providing 40 scholarships for the conference. Women interested in receiving a scholarship should contact For Grace nonprofit directly at 818.760.7635 or visit their Website at http://www.forgrace.org
This innovative conference will focus on the disparities in treatment and research toward women in pain, traditional and alternative therapies for pain control, legal and regulatory issues in chronic pain management. In what is believed to be a first for a pain-related conference, both health care providers and women in pain will attend the lectures and workshops together.
"D.I.S.C. is delighted to support such a worthwhile educational opportunity that brings together a wide array of prominent national experts to create awareness for women afflicted with chronic pain," said Dr. Robert S. Bray, Jr., CEO and founder of D.I.S.C. "In our multidisciplinary approach to health care at D.I.S.C. we are acutely aware of the issues with women in pain and feel this is an area that clearly can benefit from more attention in the medical field."
Established in 2002 by Cynthia Toussaint, a former ballerina who suffered from reflex sympathetic dystrophy (RSD) and fibromyalgia (FMS), For Grace is passionately devoted to ensuring the ethical and equal treatment for women in pain. Today, wheelchair-bound, Toussaint champions awareness of the gender bias toward women in pain worldwide.
"I extend a heartfelt thank you to the fine team at D.I.S.C. for making scholarships available for women in pain to attend this groundbreaking event," Toussaint said. "This conference will provide women who are challenged daily with persistent pain the essential tools and resources to become better advocates for their pain care and ultimately improve their quality of life."
According to the National Institutes of Health, research has shown that women experience more pain than men and are more prone to chronic pain disorders such as fibromyalgia, pelvic pain and rheumatoid arthritis. But women are less likely to receive treatment due to cultural, economic and political barriers. In fact, many women around the world report that their pain is often dismissed by medical professionals who don't take their complaints seriously.
D.I.S.C.'s pain management program provides a comprehensive approach to chronic and acute pain by integrating conservative and rehabilitative care including soft tissue manipulation, acupuncture and oriental medicine along with pharmacologic options and interventional treatments. A highly-specialized area of pain management at D.I.S.C. is the care given to patients of CRPS (complex regional pain syndrome) formerly identified as RSD. Under the guidance of pain management specialist Dr. Edward Carden, one of the country's foremost experts on CRPS, D.I.S.C. is vigorously involved in the treatment of patients with this debilitating disease and takes a very proactive stance in educating the public and the medical community in the awareness for this often misdiagnosed condition.
"Over the last several years, there has been a tremendous emphasis on raising awareness of pain issues affecting women," Toussaint added. "We created this conference to bring a high level of thinking and analysis to this issue and to educate the public, health care providers and others about the lack of diagnosis and adequate treatment of chronic pain in women."
About For Grace: For Grace's main goal is to increase awareness of the gender disparity women experience worldwide in the assessment and treatment of their pain by empowering women to be better consumers for their pain management care, sensitizing healthcare professionals to gender pain disparities and enlightening public policy makers about pain as a major health issue will improve life outcomes for all women in pain. More information is available by calling 818.760.7635 or http://www.forgrace.org visit their Website.
About D.I.S.C.: Established in 2007, by Dr. Robert S. Bray, Jr., D.I.S.C. is redefining patient care by providing a multidisciplinary center that provides a full spectrum of services conveniently housed under one roof for an unmatched quality of care. Specializing on spine and orthopedic ailments D.I.S.C. offers next generation diagnostics, conservative care and pain management, interventional treatments. The state-of-the-art surgical center that is among the finest in the country, recently announced it was "infection free" after 18 months of operation and more than 1,200 procedures. Bringing together the expertise of a variety of specialists from the fields of spinal neurosurgery, orthopedic surgery, physical medicine, pain management, soft tissue mobilization and chiropractic services along with alternative treatments of acupuncture and oriental medicine, the D.I.S.C. team is committed to an unsurpassed level of personal, compassionate care, driven by the most current technology, research and education. Contact D.I.S.C. directly at 866.481.DISC (3472) or 310.574.0400.
###