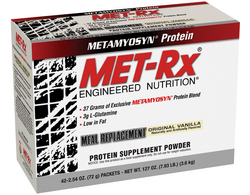 with today's hectic lifestyles, even those of us with the best intentions often find ourselves sacrificing good nutrition and regular exercise. The MET-Rx® Shaping Every Body program is the answer to getting in the best shape of your life
Ronkonkoma, NY (PRWEB) May 29, 2008
MET-Rx®, the leader in sports nutrition, announces the launch of the "Shaping Every Body" health and fitness program. Based on a 6 week time-line, the program offers tips on how to shape your body, your nutrition and your overall lifestyle so that you can look good, maintain a healthy diet, feel good and have more energy every day.
Beginning June 2, 2008, the health and fitness program will be e-mailed to consumers once a week for six weeks and will include a mix of cardio and weight training exercises, in addition to sample daily meal plans using MET-Rx® protein bars, drinks and shakes as a convenient way to fulfill your body's need for balanced meals and solid nutrition. Workouts and meal plans will be modified each week as you progress into the health and fitness program. According to MET-Rx®, individuals who achieve quality results in the gym understand the nutritional science behind attaining a lean and healthy physique, including adequate protein intake after a workout. MET-Rx® Brand Director, Patrick Cornacchiulo tells us "with today's hectic lifestyles, even those of us with the best intentions often find ourselves sacrificing good nutrition and regular exercise. The MET-Rx® Shaping Every Body program is the answer to getting in the best shape of your life". So whether you're a weekend warrior, a healthy diet enthusiast or a champion athlete, MET-Rx® products taken before, during or after a workout offer key ingredients essential to helping you achieve a fit and healthy body.*
The health and fitness program will be followed up with a Shaping Every Body book co-authored by fitness expert and MET-Rx® athlete Frank Sepe, and is due out early 2009.
About MET-Rx®
MET-Rx® revolutionized the sports nutrition industry nearly two decades ago when it introduced its exclusive protein blend called METAMYOSYN. Originally developed by a physician based on metabolic research, METAMYOSYN protein is a highly bio-available fuel that supports muscle and strength.* Today, MET-Rx® offers a diverse range of products that promote vigorous health and a healthy diet by making advanced nutrition easier, more convenient and more effective than ever before.*
*These statements have not been evaluated by the Food and Drug Administration. These products are not intended to diagnose, treat, cure or prevent any disease.
Results may vary. Use in conjunction with an intense daily exercise program and a balanced healthy diet including an adequate caloric intake.
###