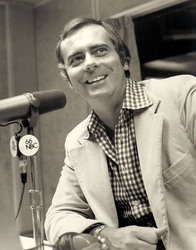 Houston, TX (PRWEB) May 28, 2008
Backstage Auctions is thrilled to present "The Legends of Radio Auction" featuring over four decades of records, original radio interviews, concert footage, photos, signed ephemera, posters, handbills and press kits from the personal collection of veteran radio broadcasters Norm N. Nite and Todd T. Taylor.
Known to listeners as "Mr. Music" for his extensive knowledge of the history of popular music, Norm N. Nite has a long and distinguished career that reads like a "Who's Who" of radio. He started his broadcast career in 1961 as an on air personality with such stations as WHK-AM/Cleveland, WGAR-FM/Cleveland, WCBS-FM/New York and WNBC/New York and has been riding the rock and roll music "Nite" train ever since. But radio hasn't been his only gig. Nite made his first national television debut in 1968, appearing on such popular television shows as Mike Douglas, Tomorrow Show, Good Morning America, The Today Show, CNBC - Talk Live, MSNBC, Dinah Shore and has even been a guest VJ on MTV. Broadcasting live from the Rock and Roll Hall of Fame since 2003, Nite's weekend rock and roll show can be heard on Sirius Satellite Radio.
Hundreds of interviews with legendary entertainment personalities, including almost every Rock and Roll great and Hall of Famer, have made Nites's published works essential for music lovers. He has penned four books, which are all part of the "Rock On" series. One of the many pieces highlighted in the auction is Norm's personal hand bound copy of "Rock On." "This is more than just a simple copy of his book; it was one of the first Holy Grail rock and roll books written by a US author. It contains over 125 autographs from various artists and entertainment industry icons," explains Jacques van Gool, founder of Backstage Auctions. "Its hard to even put a value on a book that collectively contains autographs from John Lennon, Ringo Starr, Sir George Martin, Keith Richards, Dick Clark, The Beach Boys, Chubby Checker, Bo Diddley, Roy Orbison…and that's just a few!"
Equally impressive is the personal record collection of broadcast veteran, Todd T. Taylor, who currently serves as the President of the Radio and Television Broadcaster's Hall of Fame in Ohio. His massive vinyl collection, which spans from the late 1950s to the late 1970s, is mind blowing. Taylor's collection exceeds 5,000 records and 15,000 singles with a strong emphasis on vintage rock and roll, rhythm and blues, soul, pop and surf, whereas Nite's wax treasures are a haven for enthusiasts of doo-wop and vocal groups. The museum-worthy depth of both collections, combined with an overwhelming amount of rare (white label) promotional copies, has the makings of an unforgettable auction event. "Given the remarkable rarity of Taylor's collection it will be hard for any collector or fan to pass up this unique opportunity," explains van Gool.
"The Legends of Radio Auction" will begin Sunday, June 22nd at http://www.backstageauctions.com. The auction will run for one week, ending on Sunday, June 29th. A special preview of the full auction catalogue will be available to view online beginning Sunday June 15th.
Backstage Auctions is a leading online auction company specializing in classic rock memorabilia direct from the private collections of music industry professionals. Founded on the principles of combining their client's career achievements and popularity with the demand and interest of collectors and fans that desire truly authentic and unique collectibles, Backstage Auctions is the place where rock legends live on.
For more information on the auction and the items that will be featured please visit:
http://www.backstageauctions.com.
Contact:
Backstage Auctions, Inc.
713-862-1200
http://www.backstageauctions.com
###