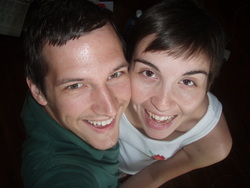 It's easy to put missionaries on a holy pedestal. In this mission ahead of us, we really are no different than anyone else
Richardson, TX (PRWEB) May 27, 2008
Richard, 24 and Molly, 25, had an extraordinary passion and conviction to reach the 10/40 window with God's love and truth. The 10/40 window is the area in the world that contains the largest population of non-Christians, extending10 degrees to 40 degrees north of the equator and stretching from North Africa across to China. How they believed their mission would happen was in God's hands but they knew they must take action.
Their story began with Richard in 2006 when he partnered with Café 1040 for a 3-month intensely experiential training program for college students. During this time, he developed an interest in discipleship and church planting specifically in Nepal and India. Café 1040 directed him to the RightNow Campaign and they helped him find mission organizations that aligned with his passions. United World Mission (UWM), which focuses on saturation church planting and relational evangelism, lined up best with his values and desires.
In the meantime, Richard married Molly in October 2006. One year later, they decided to take an exposure trip to Nepal with UWM for one week to study field survival, cultural immersion, and people groups. During this trip, they prayed about whether or not to spend two years in Nepal. On the second day, they felt confirmation from the Lord that Nepal was the place.
Since then, they have joined hands with UWM's two year program, Expedition 237. They will begin training this September in the U.S. and will leave for Nepal in December. While with Expedition 237, they will learn the language and culture of Nepal, reaching out to nationals so that they will in turn reach their people. Robert and Megan will also be adding one more person to their team as they are expecting their first child in July.
"It's easy to put missionaries on a holy pedestal. In this mission ahead of us, we really are no different than anyone else," says Richard. "We're simply being obedient to what God has called us to do. To do anything different would be difficult and outside of His plan."
Richard and Molly's story represent one of over 2,000 connections to a specific opportunity the RightNow Campaign has made over the last eight years.
"It's been amazing to see RightNow's growth in the past eight years," says Brian Mosley, founder of the RightNow Campaign. "I understand much of what Richard and Molly were going through in the decision process as I was once in their shoes. I founded the RightNow Campaign so the process for young adults to connect to missions would be a smooth one."
RightNow Interviews Richard
RightNow: When did your passion for missions begin?
Robert: Our passion for missions began in 2004. I served with Campus Outreach overseas in Brazil and Molly served overseas with YWAM. On my trip to Brazil, I realized how the world was so much bigger than what I had known. It was then that the desire sparked that I wanted to reach people overseas.
RightNow: How supportive have your families been through your decision?
Robert: They have been very supportive through it all. Now that we are pregnant, however, I think it can be a little hard for them to accept that their grandchild will be going to the other side of the world. We won't have any breaks during those two years as well.
RightNow: What have been some of your challenges in the decision to go?
Robert: The decision itself was a challenge. We kept wondering if this was what God wanted. Nepal is a very beautiful and intriguing place- people visit it from all over the world to hike and explore. We wanted to make sure this was God's moving and not our own thinking.
RightNow: What are you looking forward to the most in Nepal?
Robert: Dealing with people who are Hindu and Buddhist. For them to say they've become a Christian is serious, involving serious consequences. The most minor consequences would be complete ostracism from their family. It will be a joy to work with people who take their faith seriously, much more than we do in America.
RightNow: What encouragement would you offer those who are deciding whether to go overseas?
Robert: Go where God is calling you whether that means here in the U.S. or overseas. The worst place to be is where he is not calling you. We hope our story can be an encouragement for others to step out in faith and go, whatever that means.
About the RightNow Campaign:
The RightNow Campaign is a movement of 20 and 30-somethings trading in the pursuit of the American Dream for a world that desperately needs Christ. They meet their generation face to face at live events across the country, partnering with top Christian communicators like Erwin McManus, Donald Miller, and Margaret Feinberg. The RightNow Campaign's goal is to connect this generation's passions, skills, and desires to actual opportunities to put their faith in action. Visit http://www.rightnow.org for more information.
Contact: Marc McCartney, RightNow Campaign Director of Events
972.560.5600
###