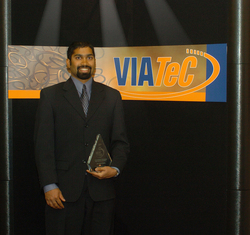 A secure and safe computer experience for all has always been our goal, to receive dual accolades from our peers in the tech community is really a testament to the hard work of all at ParetoLogic and to our driving vision of being the leader in online safety
Victoria, BC (PRWEB) May 26, 2008
Innovative software company and leader in online security - ParetoLogic, was honoured to take home two prestigious awards from the 2008 VIATeC Technology Award ceremony on Thursday, May 15th.
The Victoria-based Internet security specialists were bestowed with the highly coveted 'Technology Company of the Year' award, as well as snatching up the 'Innovative Excellence: Software or Service Delivery' award for their ground-breaking parental controls product - PGsurfer.
As proud members of the Vancouver Island Technology community, the company that has established industry excellence with products like XoftSpySE and Data Recovery Pro, ParetoLogic is honoured to be part of such a vibrant and successful industry.
"A secure and safe computer experience for all has always been our goal, to receive dual accolades from our peers in the tech community is really a testament to the hard work of all at ParetoLogic and to our driving vision of being the leader in online safety," said Co-founder and Chief Operating Officer, Don Wharton.
The two most recent awards are part of a growing collection that ParetoLogic is harbouring as they embark to continue to raise the bar and separate themselves from the Internet security pack.
As a finalist for their parental controls application - PGsurfer, at the much-celebrated CODiE awards, ParetoLogic looks forward to reaching out to the community in the future to offer their expertise and free parental product.
ParetoLogic has also recently released its Anti-Virus PLUS product which has produced consumer testimonials lauding it as one of the best anti-virus programs available on the market, catapulting the ParetoLogic name into elite company in the Internet security business.
About ParetoLogic
In 2004 four brothers recognized that modern computer users need not rely on computer repair technicians to maintain their own PC's. Knowing that sophisticated technology married with a truly user-friendly interface would empower people to secure and optimize their own computers, the brothers researched the marketplace to define and develop the software products that would most benefit today's computer user.
ParetoLogic now employs 105 professionals to help them research, develop, and market software applications that will enable people to secure and enhance their computing experience. Available in eight languages in 186 countries around the world, ParetoLogic has established partnerships on a global scale to ensure that its products are available to all computer users, regardless of location, language, or computing experience.
Attention to the needs of the consumer coupled with a commitment to delivering exceptional software applications and resource-rich websites guarantee that our products will exceed your expectations.
###