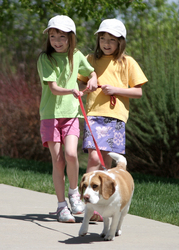 Besides offering styles that do not look like some dental smock, our products are not over-priced like some so-called 'medical devices' and are tested to legitimate U.S. standards so you know you're getting great sun protection
Madison, WI (PRWEB) May 25, 2008
Since 1989 when the Solar Protective Factory (SPF) discovered that UV goes through t-shirts at an alarming rate they have been developing fabrics that are sun protective. In fact, SPF was the first and only company to have fabrics tested and certified by NASA. Additionally SPF, in co-operation with the American Society of Testing and Materials (ASTM), was instrumental in creating the most stringent fabric and apparel testing standards in the world. These standards assure the wearer UV protection even after the equivalent of two years wear and tear.
Since 1990 when SPF introduced Solarweave many companies have tried to duplicate SPF fabrics with off-the-shelf nylon products claiming to be "medical devices" and polyester fabrics tested to Australian standards that are far less stringent than U.S. standards. These fabrics are just "renamed" generic fabrics.
SPF developed the Solarprotiferous process for maximizing fabrics' UV protective properties. Innovations in fabric construction including thread type and loft, warp and fil weaving and knitting techniques; along with pharmacologically inert dyes and chemical treatments, recycled elements such as charcoal and coconut, titanium and other exotic compounds are all part of the Solarprotiferous process. This process fostered the creation of greatly enhanced reflectivity and absorption of ultraviolet rays. Additionally, transference of UV into infrared on fabric surfaces enhanced faster temperature stability on the outside of the fabric while creating a cooler shade under the fabric; greater protection and greater comfort were thus achieved.
The Solar Protective Factory (SPF) has introduced the world's first all cotton t-Shirt that meets the criteria for the Skin Cancer Foundation's Seal of Recommendation. The Skin Cancer Foundation is the first organization in the United States to commit itself to educating the public and medical professionals about sun safety and is the only global organization solely devoted to the prevention, detection and treatment of skin cancer.
The SPF t-shirt is the only all cotton t-shirt that achieves a UPF 50+ rating under the U.S. standards set by the American Society of Testing and Materials. The testing yields a UPF rating only after a garment is initially laundered forty times and endures 100 hours of ultraviolet exposure. The testing is performed by the International UV Testing Laboratory, Americas' most experienced independent UV testing facility http://www.uvtesting.org.
SPFStore.com has the largest and most complete selection of SPF certified sun protective t-shirts in long and short sleeves for men, women and children under the sun.
"We are proud to be the organization that developed the technology, called Solarproterous, that fosters the creation of a truly comfortable sun protective t-shirt. Because of this break-through product people will be able to spend more time enjoying outdoor activities and still be protected from the sun's harmful rays," said Terry Breese, president of SPF. "Besides offering styles that do not look like some dental smock, our products are not over-priced like some so-called 'medical devices' and are tested to legitimate U.S. standards so you know you're getting great sun protection," he added.
SPF t-shirts are priced from $11.95 for short sleeved youth sizes to $17.95 for long sleeved adult sizes and are available exclusively at the http://www.SPFStore.com.
###