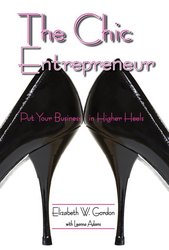 The Chic Entrepreneur: Put Your Business in Higher Heels
Atlanta, GA (PRWEB) May 27, 2008
Author Elizabeth Gordon helps women entrepreneurs who want to build a profitable business go "from flats to stilettos" in her new book, "The Chic Entrepreneur." Sharing the five biggest mistakes that women business owners make that their male counterparts are less susceptible to, "The Chic Entrepreneur: Put Your Business in Higher Heels" highlights the essential components that women business owners must put in place to create a successful business.
"The way men and women do business is very different," says Gordon. "Women in business are relationship focused; they put themselves in the middle of their business model so they stay connected in all directions. On the other hand, the male model of doing business is highly compartmentalized; a chain of command goes from the top down, and everyone's goal is to climb up. Often this causes internal turf wars, miscommunication and misalignments. While the feminine business model has its strengths, women entrepreneurs tend to make certain mistakes in common that linear thinking businessmen usually manage to avoid. Failure to handle these mistakes can cost women their business if they are not addressed."
To build a profitable business, businesswomen must avoid these top 5 mistakes:
1. Sales and marketing: Women fear looking like a pushy salesperson and have a resistance to charging a high price. Selling too softly, and not being willing to go after a premium niche and declare a high price for the value she is providing can handicap a business's ability to generate revenue.
2. Planning: Business plan? What business plan? Women often go by their intuition when making decisions concerning their business instead of writing out a strategic business plan and sticking to it. While using intuition in business can be a strength, intuition should not be the only decision-making criteria.
3. Measurement and money: Women entrepreneurs often start a business because they seek a greater sense of fulfillment, meaning, connection, or flexibility. Because profit is not always the main motive, the need to put strong financial controls in place is often ignored. As a result, cash flow often becomes a critical issue. Finance is the language of business so women must get comfortable with their numbers. In addition to looking at overall revenue figures, understand fixed and variable costs, know your break-even point and growth rate. Do monthly, quarterly and yearly trend analysis. Examine expenses, and learn how to read a profit and loss statement and balance sheet.
4. Vision: Women in business often do not have a big enough vision for their company. They focus on making enough money to just get by, rather than on creating an asset of real value and maximizing their wealth. Dare to dream a larger vision. There is nothing greedy about sharing one's business value across a larger spectrum; on the contrary, it is more generous to grow, as women can do more good this way.
5. Long Range Personal Plan: Most women start service-based organizations, but never take themselves out of the role of performing the service. Because most women start businesses with lifestyle considerations in mind, they are not willing to sacrifice their lifestyle to create an organization. It's not impossible to do both. A woman entrepreneur can still have her desired lifestyle and the financial wellbeing that growing a profitable and large company can provide. The foundation of the business has to be structured properly to enable growth. A businesswoman then becomes the strategic leader of the organization.
"A flourishing business is one that grows naturally," concludes Gordon. "Once a woman understands the critical components to running her business, her business will bloom like a flower coming out of the earth; she won't have to push it up out of the ground. She will have built a system that perpetually works, grows, and bears fruit."
"The Chic Entrepreneur" is published by Robert D. Reed Publishers, publishers of non-fiction and business books.
For a free copy of Elizabeth Gordon's 20-page Ebook, "The Secrets of My Success," or to order "The Chic Entrepreneur," please visit Chic Entrepreneur.com.
###