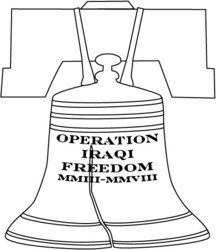 Operation Iraqi Freedom -- MMIII-MMIX
Santa Monica, Calif. (PRWEB) May 23, 2008
The Iraqi Freedom Bell Memorial is a non-profit organization dedicated to honoring the lives of American soldiers who gave the ultimate sacrifice while serving their country during Operation Iraqi Freedom.
The monument will consist of a full-scale replica of the Liberty Bell which prominently bears the inscription "Operation Iraqi Freedom -- MMIII-MMIX" (end date to be determined, depending on when combat action in Iraq officially ends). The bell will be supported by twin walls comprised of Texas limestone, which will themselves be inscribed with the names of the more than 4,000 American soldiers killed during the 2003-200(?) military campaign.
Initially, the Iraqi Freedom Bell will tour the country as a mobile memorial, to be displayed in all 50 American states, outlying territories, and the District of Columbia. During visits to each capital in the 50-state tour, the bell will ring once for every soldier from that particular state who lost his or her life.
Contributions will fund the monument's construction and caretaking, as well as its transportation, which will rely on non-petroleum-based fuel sources.
Additionally, for $100, donors can sponsor the creation of a small scale replica of the bell, which will be dedicated and individually inscribed to each of the troops who lost his or her life serving Operation Iraqi Freedom. The scale replicas, each hand carved from Texas limestone, will be delivered to the soldier's immediate family or next of kin, and extra monies from these proceeds will be donated to various charities that support veterans of the Iraq war.
Donations may be made by mailing a check or money order to:
Iraqi Freedom Bell Memorial
P.O. Box 917401
Longwood, FL 32791
On Memorial Day, 2008, donations will also be accepted online at http://www.iraqifreedombell.org .
###