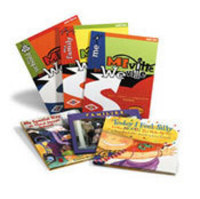 The 2008 CODiE Awards recognize those companies providing the best new technology products and services across a broad array of industries
St. Paul, MN (PRWEB) May 24, 2008
Minnesota-based AbleNet Inc., a market leader in the field of curricula development for students with disabilities, proudly announces MEville to WEville AbleNet Student Achievement Program has been named 'Best Instructional Solution for Special Needs Students' at the Software & Information Industry Association's (SIIA) 23rd Annual CODiE Awards gala in San Francisco.
Considered the industry's highest honor, SIIA's Annual CODiE Awards are the only peer-reviewed awards within the software and content industries. Over 250 judges from the trade press, consulting, educators, IT specialists and other knowledgeable, but neutral, experts reviewed each products entered. The finalists were chosen from more than 1,000 nominations submitted by more than 600 companies.
"The 2008 CODiE Awards recognize those companies providing the best new technology products and services across a broad array of industries," noted SIIA President Ken Wasch. "The awards and their winners are a testament to the power of technology to deliver innovative solutions to American businesses and consumers. SIIA congratulates all of the CODiE Award winners and nominees, whose innovation is essential for continuing America's leadership in the global knowledge economy."
"MEville to WEville AbleNet Student Achievement Program is a product that exemplifies the spirit of the CODiE Awards," said Ann Meyer, Director of Research and Development for AbleNet. "As the only research-based early literacy curriculum that incorporates assistive technologies into each lesson, MEville to WEville truly proves the power of technology. Thousands of elementary students with moderate to severe physical and cognitive disabilities are experiencing literacy learning success through differentiated instruction supported by technologies built into the MEville to WEville AbleNet Student Achievement Program."
AbleNet special education curricular programs have been implemented by some of the nation's largest school districts, including Los Angeles, New York City, Miami and Philadelphia, which is a definite measure of success, still, news of the CODiE award created quite a buzz inside the company's Roseville, Minnesota offices.
"On behalf of everyone at AbleNet, we would like to thank SIIA and its prestigious panel of judges for choosing MEville to WEville AbleNet Student Achievement Program as 'Best Instructional Solution for Special Needs Students.' Because the CODiE award is a peer-reviewed award, we are particularly proud to have been selected," said AbleNet CEO Jen Thalhuber.
For a complete list of all CODiE Award winners, visit http://siia.net/codies/2008/winners.asp.
About AbleNet:
AbleNet offers a complete line of assistive technology products, including communication aids for non-verbal students, access aids, such as switches and wheelchair mounting devices for students who require physical supports. The company is also recognized for developing research-based special education curricula that meet state and federal mandates. Located in Roseville, Minnesota, AbleNet is an ESOP company that sells its products through a network of distributors in more than 50 countries. AbleNet products and programs have been used in tens of thousands of classrooms nationally for more than 20 years. For more information, visit http://www.ablenetinc.com.
About SIIA
The Software & Information Industry Association (SIIA) is the principal trade association for the software and digital content industry. SIIA provides global services in government relations, business development, corporate education and intellectual property protection to more than 800 leading software and information companies. For further information, visit http://www.siia.net.
# # #