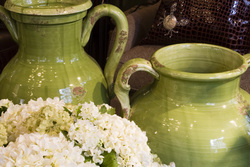 Whether furnishing an entire home or buying a birthday gift, our showroom has something for everyone
Edwards, CO (PRWEB) May 30, 2008
Slifer Designs is expanding retail operations in November, 2008, to the Willits Town Center in Basalt, CO. Modeled after the Vail Valley flagship store in Edwards, CO, the new showroom will feature a variety of vignettes displaying furniture, art, accessories and eco-friendly items for the home.
Slightly larger than the Vail Valley store, the new Roaring Fork Valley store will be 5,255 square feet. As part of the company's commitment to environmentally friendly design, the new store will incorporate eco-sensitive finishes into the store design. Each week the merchandising team creates new vignettes, so the showroom offers new and unique merchandise.
"Our business formula of changing products weekly sets us apart from the competition," said Susan Ferrari, Director of Retail Operations for Slifer Designs. "In addition, we are doing more residential and hospitality design projects in the Roaring Fork Valley and Aspen market, so this move is a natural expansion for us. Our goal is to offer unparalleled service and exclusive products to the Roaring Fork Valley."
Offerings from vendors including Henredon, Milling Road, Hickory Chair, Ralph Lauren, Baker, Century, Lee Industries, Ankasa and Michael Aram position the new showroom differently from it's competitors. The Slifer Designs buying team attends the High Point furniture market twice a year and the New York gift show semi-annually in search of unusual and unique items, and to see the latest in the furniture industry. The end result is a mix of products, with a mix of pricing, making this a shopping experience with a wide variety of choices.
"Whether furnishing an entire home or buying a birthday gift, our showroom has something for everyone," continued Ferrari.
The Roaring Fork Valley showroom in Basalt is located next to the Whole Foods Market in the Willits Town Center, Basalt, Colorado. "The retail stores are showing continued momentum at Willits," says Tom Belinski, Vice President of Development. "We are proud to have such a high quality addition in Slifer Designs, especially since they exemplify great taste with a local flair."
Slifer Designs expects to open the new showroom doors in November, 2008.
Colorado Biz magazine recently named Slifer Designs as the 16th Top Woman Owned Company in Colorado, and Western Interior Design magazine has again included us in "The List" of their recommended national designers.
For more information, contact Slifer Designs at 970-926-8200 or visit sliferdesigns.com
###