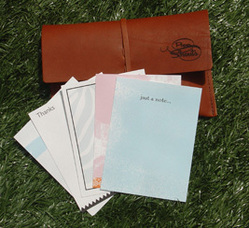 Only a few lucky people will be going home with the coveted Golden Popcorn award
Scotts Valley, CA (PRWEB) May 27, 2008
Paper Shouts, provider of posh notes for life's big moments, announced today that it was selected to participate in the celebrity gifting for the 2008 MTV Movie Awards taking place Sunday, June 1, 2008 in Universal City, CA. As part of the celebrity gift bag presented to host and presenters, Paper Shouts will deliver customized note cards and gift certificates packaged in a one-of-a kind, hand made leather carrying case. The customized note card set includes a sampling of the high-quality, recycled paper note cards Paper Shouts offers in traditional, vintage and modern designs.
Participants set to appear at the MTV Movie Awards include Steve Carell, Jack Black, Lindsay Lohan, Robert Downey Jr., Mark Wahlberg, Seth Rogen, Megan Fox, Jennifer Hudson, Anne Hathaway, James Franco, Rumor Willis, Brendan Fraser, Danny McBride, Cold Play, Pussycat Dolls and host Mike Meyers.
"Only a few lucky people will be going home with the coveted Golden Popcorn award," said Shannon Malliet, president of Paper Shouts. "But all the participants of the ceremony's festivities will be offered a unique memento of the evening and we are proud to be included in the event gift bags."
Paper Shouts products are printed on 100% PCW recycled paper and include shower invitations, birth announcements, kids birthday party invitations, sweet sixteen party invites, graduation announcements, bar/bat mitzvah invitations, quincineara invitations, wedding invitations, holiday cards, pet announcements, thank you cards, personalized note cards and more.
For more information please visit http://www.papershouts.com.
About Paper Shouts, Inc.
Paper Shouts, headquartered in Scotts Valley, California, was created with the mission of giving people a way to share their family news that is not only easy and cost effective but also provides an end result that is as fabulous and personal as the events themselves. Paper Shouts believes the design of an invitation or announcement should be an extension of the personalities of our customers, so we have created a unique set of designs to reflect individual styles--traditional, vintage and modern. For more information on Paper Shouts, please visit http://www.papershouts.com
###