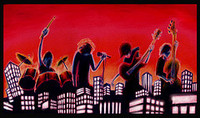 As soon as camp was over, I couldn't wait for it to start up again
Chico, CA (PRWEB) May 26, 2008
Parents of youth, age 12-18, looking for a creative environment for their budding young musicians, will now have more opportunity to grab a spot in The Collective Sound (TCS) Music Academy's signature touring Summer Rock & Roll Music Camp with, not one, but two Summer Sessions for 2008. An expected 100 youth will gather from around the globe at the CSU Chico campus for three-week sessions running from July 6th-25th and July 20th-August 8th, to write, record, and perform their own collaborations, create music videos, epks, and band photos, and open for headliners along the three-stop Element Youth Movement Coop Tour - a collaborative art, music, and educational event with the Boys and Girls Club of America and Element Skateboards. The co-ed music camps accept all levels of musicians with a focus on guitar, bass, drums, voice, keyboard/piano and electronic music. Visit http://www.thecollectivesound.com for registration and scholarship information. Registration ends July 1, 2008.
The Collective Sound Music Academy, a non-profit, has been filling a gap in youth music education for over a decade, with programming that focuses on collaboration and creativity in current music genre. Working with music industry leaders such as Capitol Records, Volcom Entertainment, Sabian, the D'Addario Foundation, Gallien-Krueger, Gretsch Drums, Gibraltar, Dunlop, Roland, Digidesign, Yamaha, and Genz-Benz as well as music teachers, students will not only experience the creative process and hone their instrumental and technical skills, but will get a good look at the music industry.
"Much of what's taught in school music programs today is repetition of selected traditional music…with little emphasis on the collaborative process that is inherent in writing and performing music" says TCS Founder, Zac Smith. "In today's scene, creativity is key and the use of a sampler or software application is as relevant as, say, the use of a trumpet. Our goal is to present youth from varying socio-economic backgrounds with an outlet for creative expression through the vehicle of current music trends."
According to Smith, kids not only compose their music for live performance, they also produce additional creative media content in the form of band photos, recordings, midi compositions, music videos, electronic press kits, and online profiles, giving them the tools needed by today's do-it-yourself musicians.
"TCS showed me that playing the drums is not just a hobby, but something that I can actually do for the rest of my life," says student Lane Beckstrom. "There are a variety of youth based programs out there that involve sports and other activities, yet it is peculiar that creative expression through music has few guided and funded options. It is a valid plight to offer youth a platform to conceptualize and bring to fruition their musical ideas, while teaching them the value working and communicating with others in developing an idea. Our foundation is promoting and empowering young musicians and developing their confidence in their creative and musical potential."
Highlights from last year's summer music camp, including watching the kids work on a music video for award-winning Australian artist, Ben Lee, can be seen in the Web Series "Let it Be Heard..." - The Story of the Collective Sound at: http://www.thecollectivesound.com.
"As soon as camp was over, I couldn't wait for it to start up again," says last year student, Andrew Rywak.
For more information, visit http://www.thecollectivesound.com, email info @ thecollectivesound.com, or call 530-354-4045.
Press Contact:
Zac Smith
zac @ thecollectivesound.com
530-693-2058
###