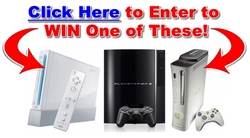 Katy, TX (PRWEB) May 27, 2008
GamerzReviewz.com is a brand new blog dedicated to gamers and is currently focused on the top five platforms, those being: Xbox 360, PS3, PS2, Wii and PC, however they are not excluding the handhelds, so don't worry.
As part of their grand opening they want to get in one of their lucky readers hands a Xbox 360 Elite, PS3 or the hard to come by Nintendo Wii...for free! They are leaving the choice up to the winner to select which console they want and entering their contest is extremely easy and explained in detail at
http://www.gamerzreviewz.com/
GamerzReviewz slogan...
"by Gamerz for Gamerz"
...but reviews are not all they do. Yes they have reviews of games such as their latests Grand Theft Auto IV Reviewed and the Review of Assassin's Creed but their plan is for much more. They want to keep gamers up to date with the new "yet to be released" games that are scheduled plus provide gamers with cheats, walk throughs, tips, tricks, and whatever else to allow gamers to get past that level they are stuck on, or provide them with information on how to be the best when it comes to the world of gaming.
Since their website is new and dedicated to reviewz by gamerz for gamerz, they are also always looking for fresh new content "by Gamerz" and if any gamer wants to write for the love of writing, the game or to get the word out of thier own website then GamerzReviewz can help. They are always looking for gamers to write reviews about all of the new exciting games that are constantly coming out onto the market.
GamerzReviewz is also looking for sponsors for their contest and if interested there are many options available to help give great exposure to the sponsors business... which really is an excellent way to get great low cost exposure for any business. Whether an interested writer or sponsor, all that is needed is to just head over to...
http://www.gamerzreviewz.com/contact-gamerz-reviewz/
Check out this brand new Video Game Reviews blog now for your chance to Win a PS3, Xbox360 or Wii Gaming System. The choice is yours.
###