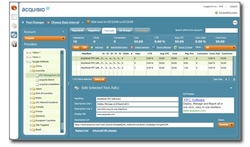 As a web usability company, we can affirm that the current PPC interfaces like AdWords do not appear very user-friendly. Acquisio has made multi-platform PPC management easy, simple, and frankly, beautiful
Montreal, Quebec (PRWEB) May 28, 2008
Acquisio, the leading provider of agency oriented pay-per-click (PPC) management software Acquisio SEARCH, today announced the launch of a major software enhancement -- the Acquisio Editor. Easily accessed through a web browser, the Acquisio Editor provides an interface for PPC account management that looks and acts like Google's Adwords Editor, but works with multiple search providers.
"We understand all too well that agencies are constantly under pressure to drive their clients' CPAs down. Knowing this, we developed the PPC Optimizer so we can empower agencies to see how they can make real-time changes in key metrics and how it can effectively reduce costs," explains Marc Poirier, Co-Founder of Acquisio. "This allows agencies to reallocate client budgets more intelligently."
As Seth Worby, Director of Search Engine Marketing at Verndale explains, "After years of looking for the right PPC solution, I found Acquisio and I couldn't have asked for anything more. Their attention to detail, account services, and their advanced software make it the best product of its kind on the market today."
The Acquisio Editor allows for fast and simple mass editing of your account keywords, bids, creatives, URLs and more. The interface will be familiar to anyone who has used Google's Adwords Editor in the past, with the added functionality of being able to manage Yahoo Search Marketing in tandem with Google. This simple addition can help simplify account management across providers for advertising agencies.
"As a web usability company, we can affirm that the current PPC interfaces like AdWords do not appear very user-friendly. Acquisio has made multi-platform PPC management easy, simple, and frankly, beautiful," said David Felfoldi, Chief Experience Officer of Sherpa Web Studios.
About acquisio:
Acquisio is a worldwide leading developer of pay-per-click management software for agencies. Its cutting edge product, acquisio SEARCH, is the only tool designed specifically for interactive agencies to launch, manage, optimize and report on all of their Pay-Per-Click campaigns, for all of their clients, across all of the major paid search providers, from within one interface. For more information, visit acquisio at http://www.acquisio.com.
###