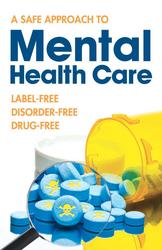 A Safe Approach to Mental Health Care: Label-Free, Disorder-Free, Drug-Free
Clearwater, FL (PRWEB) May 27, 2008
A new booklet has been released that will help to fully inform the public about psychiatric evaluations, mental health screening, involuntary commitment and more. There are parents across the nation who have children that have been labeled with learning disorders, perhaps prescribed a psychiatric medication, and perhaps have even been committed to a psychiatric facility. There are individuals who have sought out therapy and found themselves on psychiatric medication as well. This booklet is a compilation of facts and statistics that are easy to read and will begin to answer the public's questions about these issues.
This 36 page booklet has been newly released and provides basic facts and information to the reader regarding involuntary commitment, mental health screening, FDA warnings on psychiatric medications and how to help others get fully informed about these issues. (read a section of the booklet at http://www.cchrflorida/book )
What is the truth about mental health screening? Do parents have any rights when it comes to schools screening their kids for mental health needs? This booklet will give important information to individuals and parents on their rights when it comes to mental health screening.
What is really known about psychiatric medications that are now on the market? Are they safe and effective? Are there any alternatives?
There are brief stories from parents and individuals who have gotten their questions answered. Nick's story is one of them. "Diagnosed with Stress Anxiety Disorder, Clinical Depression, thoughts of suicide, Tourette's Syndrome and ADHD, the doctor wanted to start putting Nick on Prozac, Zoloft, Ritalin, Dexatrine, and Klonopin". As Nick's story unfolds his father learns more and more about what it is he can do to help his son.
"A Safe Approach to Mental Health Care: Label-Free, Disorder-Free, Drug-Free" offers the public a way to educate themselves on the basic truths about their mental health rights and their mental health options so that they can be better informed and can educate others. It is a common sense guide to knowing your rights and the truth when it comes to mental health!
For additional information contact Laurie Anspach at http://www.cchrflorida.org
Citizens Commission on Human Rights of Florida works side-by-side with like-minded groups and individuals who are actively educating the public about mental health issues. It is a non-profit organization that does not provide medical or legal advice, yet does refer to those medical and legal professionals who can assist in protecting the basic rights of the individual in the field of mental health.
###