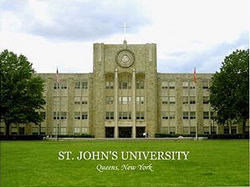 St. John's needed a partner that is capable of reacting to, and satisfying, our business requirements quickly and accurately and one that understands the importance of our mission-critical applications
Beltsville, MD (PRWEB) May 28, 2008
St. John's University (Queens, NY) has outsourced the Admissions application process to DataBank, a national full-service provider of document scanning and document management solutions. St. John's had seen a 65% increase in Admissions applications over a five-year period.
Maura Woods, Executive Director, Applications, Imaging & Information Technology, knew there were many opportunities for significant business process improvements that could be achieved in several areas within the University. Working with those departments, Woods began the process by first analyzing, understanding, and mapping their current processes.
In the Admissions department, St. John's initially made a decision to begin implementing an in-house solution to manage all mailroom operations and document scanning. DataBank was selected to provide the consulting and professional services required to integrate document imaging with their Banner Xtender module (a variant of an EMC® Documentum software product) that would serve as the vehicle for importing digital images and data into the Banner software. As St. John's recognized the knowledge and expertise required to effectively capture these critical documents, they realized the complexity, labor and resources required to perform these critical functions in-house were significant. They revised their original approach and decided to outsource the entire process to DataBank.
"St. John's needed a partner that is capable of reacting to, and satisfying, our business requirements quickly and accurately and one that understands the importance of our mission-critical applications" said Woods. "We also need an organization that is not resource constrained when our needs expand and grow."
Dick Aschman, DataBank's CEO, noted, "Our approach of working closely with our clients to design the right solution for their needs, producing superior quality images, and delivering highly accurate information for their existing system was recognized by the management team at St. John's. The experience we have developed in delivering similar document management solutions and scanning services to other colleges and universities - including Boston College, Northeastern University, and Carnegie Mellon - uniquely qualified DataBank and gave St. John's the confidence in our ability to deliver superior results with our outsourced solution."
DataBank functions as the digital mail room for applications submitted to St, John's and identifies over thirty document types and their indexing requirements. Incoming documents are grouped by applicant, even noting which documents are originals and which are copies. Document handling and data entry processes and methodologies are well-tested and extremely accurate with quality assurance performed by experienced and well trained staff. Scanning of all documents is performed on the latest Kodak high speed production scanners with integrated image processing software. All images and data are uploaded to the University's workflow where processing by Banner® software takes place.
Maura Woods said, "St. John's University now has a paperless Office of Admissions. DataBank has aided in the elimination of lost and misfiled documents, eliminated the need for St. John's to hire and train temporary employees, and our staff is now focused on higher level tasks, all while improving the student selection process. With DataBank's established track record of performance, we are expanding the partnership to include processing of all Financial Aid documents. They have met all performance goals without missing a single deadline."
About DataBank
Databank is a premier national full service provider of Imaging and Information Solutions. With nine production centers throughout the United States, they deliver a full range of document imaging services, technologies, and tools to capture, manage, store, preserve and deliver information for their clients. . They design and deploy solutions and workflows that provide business process improvements and streamline operations.
As a customer-focused organization, they take the time to gain a thorough understanding of their clients' environments and security requirements. As a leader in the document management industry, they have a proven track record of successes and for delivering value to their clients. They back their work with a unique-to-the-industry 100% Guarantee.
###