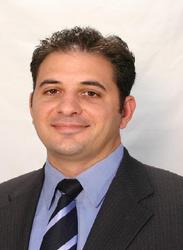 An all too familiar scenario is that a patient wakes up one morning unable to move and can't figure out what caused the low back pain.
Irvine, Calif. (PRWEB) May 28, 2008
Low-back pain is a common problem for millions of Americans, and, today, Dr. Vasili Gatsinaris, founder of Irvine's Next Level Wellness Center, offers some advice that will help many pain sufferers. Gatsinaris says to exercise the back by working two key muscles. By literally getting off their gluteus maximus,' people who suffer from low-back pain that was not caused by trauma can improve their quality of life.
"In my experience, low back pain is one of the most common causes of disability reported in and out of the workplace," says Gatsinaris. "An all too familiar scenario is that a patient wakes up one morning unable to move and can't figure out what caused the low back pain."
According to numerous studies in the past decade, there has been a dramatic increase in the number of adults suffering from low back pain. Gatsinaris' experience is in keeping with the findings of these studies. He suggests we are too sedentary.
Gatsinaris adds, "To say that low back pain is an epidemic in our society would be an understatement! Anyone who works at a desk on a computer, sits on a couch for long periods of time or drives in traffic for extended periods can develop low back pain."
Gatsinaris cautions that there can be other causes of lower back pain, including disc herniations, abnormal discs, degenerative disc disease and sprains and strains. However, a majority of non-traumatic low back pain cases are a result of weakened low back muscles and scar tissue.
"In most cases, there are two common muscles of the low back that are the culprits.
When we sit, we relax and shorten a muscle known as the iliopsoas muscle. The iliopsoas, commonly known as the hip flexor muscle, attaches to the vertebrae of your lower back. When sitting for prolonged periods, this muscle becomes chronically shortened due to formation of scar tissue," says Gatsinaris. "The other muscle, the gluteus maximus, is stretched while sitting. When this stretch is sustained, it leads to diminished neurological input causing weakness and atrophy."
Gatsinaris recommends strengthening both the iliopsoas and gluteus maximus muscles for low back stabilization, stating that proper stretching and conditioning of these muscles may prevent low back pain. He adds that the best and safest way to get started is to consult with an exercise coach or personal trainer about specific stretches and exercises for these muscles, and, if the lower back pain problems do not resolve with proper stretching, Gatsinaris suggests consulting with a certified Active Release Technique (ART®) provider. ART is a medically patented soft tissue treatment protocol designed to reduce scar tissue formation and improve muscle performance.
"Getting active is truly the best way to alleviate non-traumatic lower back pain," Gatsinaris adds. "However, seek the right help if you do get injured. New techniques, such as the Fenzian Treatment System® and ART are now being used to eliminate pain and speed healing. These combined with an active lifestyle could mean the end to low-back pain."
The treatments available at Next Level Wellness Center are the latest, state-of-the-art methods. They include Active Release Technique, Active Isolated Stretching, Fenzian Treatment and Orthotic 3Dimensional Foot/Gait analysis.
About Dr. Vasili John Gatsinaris
Dr. Vasili Gatsinaris is a Southern California native who graduated with a Bachelor of Science degree in biology from the School of Biological Sciences at the University of California, Irvine. He received his Doctorate degree from Los Angeles Chiropractic College. Gatsinaris is one of 40 certified Fenzian Treatment System practitioners in the United States and one of three in Southern California. He is a certified Active Release Technique (ART) provider and is Active Isolated Stretching (AIS) certified. Gatsinaris has treated numerous professional, collegiate and amateur athletes. He is the founder of Next Level Wellness Center in Irvine.
About Next Level Wellness Center
Next Level Wellness Center is local at 17811 Skypark Circle, Suite E in Irvine, Calif. 92614. Next Level Wellness also offers a Pilates studio, massage and personal training services. For more information visit http://www.nextlevelwellnesscenter.com or call 949-263-9003
NOTE: Fenzian and The Fenzian Treatment System are trademarks of Eumedic Ltd.
###