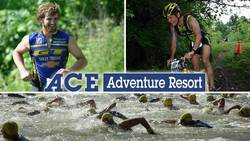 Oak Hill, WV (Vocus) May 28, 2008
An integral race in the XTERRA America Tour sanctioned by USA Triathlon, the Big Canyon race traverses the spectacular New River Gorge. The event begins with an invigorating and unique down-stream swim in the New River. At the old site of the once famous Dun Glen Hotel, the competitors will begin a 1,000 foot climb out of the Gorge. The seven to eight mile run meanders over single-track trails and forest service roads passing through and around abandoned coalmines and tiny towns that once lined the river. The final segment is a fast, single-track course on some of the most technical and scenic trails in the East including the infamous steep descent found on Rigormortis Trail. Age classes in male and female divisions are available.
A much anticipated stop on the series circuit, ACE Adventure Resort provides a combination of technical course components, spectacular scenery, a unique swimming stage and a complete line-up of facility amenities. Event Coordinator Jeff Walls explains, "The cooperation for agencies and river users is unprecedented for this event. We have a volunteer crew for all stages including many river professionals who donate their time to the downstream swim segment on the New River. The power of the river invigorates the participants and starts the race off with an adrenaline shot!"
Representatives from 10 states have participated in past XTERRA events, at ACE. Based on racer feedback from previous events, Walls points to trail upgrades and the addition of a more complex biking segment as 2008 improvements.
In addition to race activities, participants are invited to an open course practice on Saturday, May 31st. A special pasta dinner at ACE's Lakeside Dining Lodge is available for racers and their families for $5.00 per person. Lodging at the event site includes chalets with hot tubs, cabin tents with beds, primitive camp-sites, bunkhouses and group tents, along with full service RV hookups and shower houses. Advanced reservations are recommended, and camping is FREE to the race athlete.
Special thanks go to our 2008 key sponsors: Coca-Cola, Dasani, Chase, XTERRA Wetsuits, Coors Light, GU, XTERRA Gear, General Ambulance, iplayoutside, Rodale, Crook Brothers, QBP, Corley Distributing, and IJ. An awards ceremony will take place at the conclusion of the race.
Pre-registration is available via mail, fax or phone by contacting ACE Adventure Resort at PO Box 1168, Oak Hill, WV 25901; 800-787-3982; FAX 304-469-3053. Participants can register online at Active.com On-site registration is available on Saturday, May 31st between the hours of 12 Noon and 6 PM. No race day registration is available. Free t-shirts are given to the first 100 registered racers. Camping at the Adventure Resort and a burrito lunch on race day is free to registered participants. All contestants are automatically entered for free drawings. Updated race information can be found at Aceraft.com.
###