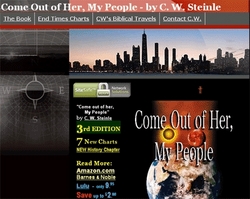 Come Out of Her, My People.
Phoenix, AZ (PRWEB) May 28, 2008
Author C.W. Steinle has announced the paperback release of his prophetic exploration of end times prophecy, "Come Out of Her, My People." In it, Steinle explores the biblical prophecies of the Apocalypse and draws frightening parallels between those predictions and recent events.
The "Her" in the Bible passage for which the book is named, refers to the ancient city of Babylon, from which God's people were instructed to flee, "lest you share in her sins, and lest you receive of her plagues (Revelation 18:4)." Babylon was eventually to fall at a pivotal point in the Revelation timeline and become lost to antiquity. Steinle, who has given more than 2,000 Bible teachings in his career, posits that the modern United States is the ancient city resurrected - and, like Babylon, is ripe for a final, dramatic downfall.
"The book sticks closely to traditional, fundamental Christian interpretations," author C.W. Steinle explains. "However, people of all kinds of backgrounds and beliefs can reap a great deal of thoughtful insight and information from the analysis."
The destruction of the World Trade Center on Sept. 11, 2001, prompted Steinle to revisit Revelation and conclude that the catastrophe could signal the final fall described in end times prophecy.
In a review of Steinle's analysis of the Revelation timeline, Kirkus Discoveries breaks down one conclusion that can be drawn from "Come Out of Her, My People."
"The author brings up the intriguing possibility that the city of Babylon does not represent a single nation but perhaps a world government of federation, but he still believes that the United States, as a single world superpower, may be the center or beginning of such a dominating global force," the Kirkus Discoveries review states. "His conclusion - that Christians may want to flee the U.S. if it truly is the biblical Babylon - is intimated rather than bluntly stated."
"Come Out of Her" explores Steinle's modern interpretations of other ancient descriptions, and lets readers ponder modern-day parallels to the Beast and the Harlot in the Bible, the picture of the heavenly city from Revelation, the possible identity of the Antichrist and ancient verses that prophecy end of the world events.
"Come Out of Her, My People" is published by Lulu.com press. For more information and a glimpse of C.W. Steinle's startling theories, visit ComeOutofHerMyPeople.info.
About C.W. Steinle:
Born in the American Midwest in 1951, author C.W. Steinle has traveled the globe in his spiritual journeys. Visits to Ancient Ephesus, Philippi, Thessalonica, Corinth, Athens, Egypt, Jordan and multiple trips to the Holy Land have strengthened his knowledge of the Scriptures. Steinle has passed on his knowledge of scripture as well as his theories about end times prophecy in more than 2,000 lectures.
# # #