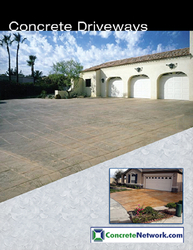 As people continue to expand their investment in real estate, the demand for beautifying these properties should continue
Yucaipa, CA (PRWEB) May 29, 2008
One of the most effective ways to enhance the look of a home is by gracing it with a decorative concrete driveway. The Concrete Network has put together a new downloadable catalog on Concrete Driveways for homeowners, designers and builders looking for ideas on enhancing driveways with decorative concrete.
Pages are filled with all of the necessary information to make an educated decision regarding a concrete driveway make-over. Included are full color photos, and design options in using decorative stamps, stains, sawcut patterns, color options and much more.
When homeowners build a new driveway or revamp an existing one, many turn to concrete, but not just the typical, gray concrete. Decorative concrete allows for driveways to be customized. Because concrete can be forged into a range of textures, colors, and patterns, it is a versatile part of an overall landscape design and can increase the value of a home.
"As people continue to expand their investment in real estate, the demand for beautifying these properties should continue," explains Mike Verlennich of Verlennich Masonry and Concrete. "Beautiful, durable concrete is the best choice for long-term function and aesthetic appeal."
Many concrete driveways last for 30 years or more and, in the long run, may cost less than using and maintaining natural materials like flagstone, brick or slate. The catalog also features many decorative products that can resurface existing driveways without the need to tear out and replace the entire slab.
Read more about concrete.
Established in 1999, The Concrete Network's purpose is to educate consumers, builders, and contractors on popular decorative techniques and applications. These include stamped concrete, stained concrete floors, concrete countertops, polished concrete, and much more. In 2007 The Concrete Network Website had over 11 million visitors researching decorative concrete.
The site excels at connecting buyers with local contractors in their area through its Find a Concrete Contractor service. The service provides visitors with a list of decorative concrete contractors throughout the U.S. and Canada, and is fully searchable by 23 types of decorative concrete work and 202 regional areas throughout North America.
Photos courtesy of Solid Rock Concrete Services.
###