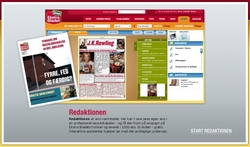 These awards are yet another example of how our engaging solutions are making a real difference - both for our clients and society in general. With Redaktionen, we have developed a solution that not only supports an education system but one that also provides definitive ROI for the business partner in question, in this case the newspaper Ekstra Bladet
Copenhagen, Denmark (PRWEB) May 28, 2008
VerticPortals celebrates Ekstra Bladet's recent triumph at the INMA awards - the annual top decoration of the International Newsmedia Marketing Association - in Beverly Hills, as they scooped three of the main accolades for "Redaktionen". Judging was based on concept, creativity, copy, graphic design, production, and overall effectiveness, as well as results.
'The Newsroom', or "Redaktionen" as the solution is known locally in Denmark, is an internet-based editorial platform. Launched in October 2007, it enables schools to produce their own custom-made newspapers completely free of charge. It is the only product of its kind in the world.
VerticPortals were appointed to the task of production by Thomas Rydberg, Marketing Director at Ekstra Bladet who commented, "We gained a lot with this project: short-term the kids will have fun, long-term we hope to be top-of-mind with these kids when they have to choose their future channel for news, either in a newspaper or on the internet. We're very satisfied with the solution because it is very user-friendly; we believe that all kids really can manage this tool and the schools need neither any plug-ins nor special computers."
The concept was built around supporting the students' learning process, to develop their writing and editing skills in a very flexible way, and to provide fun while learning a professional production process. Students lay out their newspapers online and Ekstra Bladet delivers 1000 colour prints of the paper directly to the school. Ensuring that it met national standards for Danish and Social Studies, it was developed in cooperation with the Danish School of Education.
Redaktionen was also a strategic branding project targeting future media consumers. The use of the Ekstra Bladet logo and layout for all newspapers produced in Redaktionen, by clearly making Ekstra Bladet the sender on all campaign-materials, and by using actual Ekstra Bladet employees and offices, all contributed towards a distinct visual tie between Redaktionen and Ekstra Bladet.
Sebastian Jespersen, CEO of VerticPortals, added "These awards are yet another example of how our engaging solutions are making a real difference - both for our clients and society in general. With Redaktionen, we have developed a solution that not only supports an education system but one that also provides definitive ROI for the business partner in question, in this case the newspaper Ekstra Bladet".
About VerticPortals:
VerticPortals (http://www.verticportals.com) is a digital ad agency, operating across digital media including internet, mobile phones, film/television and the rising tide of portable media players. Headquartered in Copenhagen, VerticPortals is also based in New York and counts Microsoft, Hewlett-Packard, Maersk, JBL, GlaxoSmithKline, Carlsberg and Nestle amongst their clients.
# # #