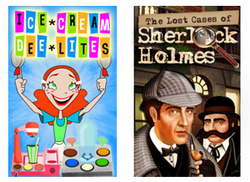 Our customers are the best barometer for measuring the success of a game
Kansas City, MO (PRWEB) May 28, 2008
uclick, a leader in casual games for PC, mobile and online, has just released two new casual game titles: The Lost Cases of Sherlock Holmes and Ice Cream Dee Lites under its uclickGames label. Both games are now exclusively available on Big Fish Games (http://www.bigfishgames.com).
The Lost Cases of Sherlock Holmes, developed by Legacy Interactive and published online by uclick, is a classic Hidden Object game in which the player is transported to the dark streets of early 20th century London as Sherlock Holmes, following hundreds of potentially relevant clues in 16 cases of forgery, espionage, theft, murder and more. Joining the famed sleuth is his dedicated team comprised of Watson, Mycroft and Inspector Lestrade. Amateur sleuths can refine their detection skills in timed or untimed playing modes.
"Our customers are the best barometer for measuring the success of a game," said Nate Webb, Director, Partner Relations at Big Fish Games. "Since its release, The Lost Cases of Sherlock Holmes has consistently ranked in the top five downloads on our site and has become an instant hit with our customers."
"We are very excited to launch two major titles on Big Fish Games in the same week," said Derek Nolen, Director of Game and Product Development at uclick. "Both of these exciting games offer challenging game play with broad appeal in two of the hottest game genres."
A perfect fit for the upcoming summer season, Ice Cream Dee-Lites, developed by Cerebral Vortex, offers a different experience as players assist the main character, Dee in her quest to become her town's Queen of Ice Cream. Dee must serve her signature frozen treats to a variety of quirky customers as quickly as possible to earn cash, upgrade her store and work her way to the top of the frozen dessert business. Some of the key features of this fast-paced click management game include more than 60 missions across four distinct ice cream stores, many upgrade options and an eccentric cast of 16 crazy characters including the handy-capable Royce Rolls and ChocoTron, the giant chocolate-craving robot.
"Ice Cream Dee-Lites is a stand-out game in the click management genre," said Nolen. "Gamers of all ages are going to eat it up."
Both The Lost Cases of Sherlock Holmes and Ice Cream Dee-Lites are also available for download or purchase at http://www.uclickgames.com. The games will be available in retail boxed versions for the PC and in wide release on the Web after June 5th.
About uclick
uclick is a premier publisher of innovative casual games for PC, mobile and online syndication. We are also a leading syndicator of highly sought-after online content, including comics and cartoons, columns, weather, horoscope and lottery information, casual games and more. We are setting the pace for the mobile publishing industry in North America, with a list of hit titles for mobile phones that includes USA Today Sudoku, TMNT, KooZac and many more. uclick is a division of Andrews McMeel Universal.
For more information on uclick, visit http://www.uclickgames.com.
About Legacy Interactive
Legacy Interactive (http://www.legacyinteractive.com) is a leading developer and publisher of casual games for people of all ages. Entertaining customers since 1998, the company has built a reputation for developing intelligent, realistic and engaging games for a broad audience. Located in Los Angeles, Legacy is known for its TV-branded games, such as Law & Order and The Apprentice, as well as for its popular simulation games Pet Pals: Animal Doctor, Emergency Room and Zoo Vet. Through Legacy's online casual game portal at http://www.legacygames.com, customers can download and try more than 500 casual games plus read and write reviews and share play lists of their favorite games. Legacy has ongoing distribution, marketing and content strategic partnerships with a number of companies, including Vivendi Games, Universal Studios, Ubisoft, Mindscape, Majesco Entertainment, and Scholastic.
For more information about Legacy Interactive, visit http://www.legacyinteractive.com
About Cerebral Vortex
Established in October 2006, the St. Catharines, Ontario-based Cerebral Vortex Games is a developer of games for casual audiences. Previous titles developed by CVG include the word action/puzzle game Word Burst. Cerebral Vortex Games' premier title, Ambush! Trivia, was a finalist in Telefilm Canada's Great Canadian Video Game Competition.
The company webpage is located at http://www.cerebralvortexgames.com.
###