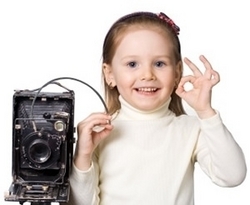 Judging is going to be a huge - but fun challenge.
New York, NY (PRWEB) May 28, 2008
Parents magazine is offering picture taking tips to hopeful moms and dads entering their cute kids in the magazine's online baby photo contest, which was just announced this month.
The editors of Parents are looking for the cutest kid in America between 6 months and 6 years old to be the cover kid of the magazine's November 2008 issue. Entries are being accepted through June 24 at http://www.parents.com/app/sharemy/searchResults.jsp?_requestid=190586.
Sharon Elcock has organized hundreds of photo shoots in her role as Sittings Editor at Parents magazine for four years. She shares these basic picture taking tips:
1. Do: Take photos with a really simple - but pretty background. No one wants to look at dirty dishes in your kitchen sink! Instead, go for natural scenery in front of lush greenery or pretty flowers.
2. Don't: Please, please no pictures with food on the face. Cute for grandma's refrigerator - not so much for the judges.
3. Do: Try to capture your child in a care-free, happy moment. Photos that are too staged usually don't show you're child's true energy and personality.
4. Don't: No extreme close-ups please! It makes it hard to see the whole child.
5. Do: Be honest with yourself about your child's temperament. Does he truly enjoy taking pictures or does he burst into tears the moment you point the digital at him? If he does not like taking pictures at this time in his development, be patient! Chances are, with time, he may come to like the camera. Enter the contest then and watch him win!
6. Don't: Lose the hat, the towel draped over the kid's head - what are you hiding under there?
7. Do: Try taking pictures using interesting, fun angles.
To enter Parents magazine's online baby photo contest, just upload a picture of your child before June 24 to http://www.parents.com/app/sharemy/searchResults.jsp?_requestid=190586. Your kid could be chosen as one of five finalists, flown to New York City with a guardian and professionally photographed. The most gorgeous child of all will appear on the November 2008 cover of Parents.
"There are so many gorgeous kids out there," says Judy Goldberg, Senior Editor of Parents magazine. "Judging is going to be a huge - but fun challenge."
About Parents:
Parents magazine has been America's number one family magazine for more than 80 years. Since its inception in 1926, it has been a trusted source by every generation of parents. Currently, the magazine is a powerful community of 15.6 million readers devoted to supporting the efforts of parents, educators and other citizens who strive to make the world a better place for our children. Parents can be found online at http://www.parents.com/.
###