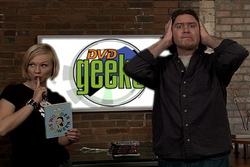 We've always felt that HD or Blu-Ray just didn't matter if the movie still sucked
Chicago, IL (PRWEB) May 28, 2008
"DVD Geeks," the newest show on the America One TV network, encourages all Americans to stay home and watch a good DVD rather than burn overpriced fuel on the way to the multiplex. "You can actually buy about 10 DVDs in some stores for the price of filling up your tank. We can help steer you to the best of what's on the shelf," says series producer John Champion.
The only show on TV solely dedicated to DVD reviews, "DVD Geeks" helps viewers chart the complex landscape of DVD releases by focusing on the best of the best. Each week, five passionate fans pick out their favorite DVDs from a range of blockbuster releases to TV shows to hidden gems that escape the spotlight. It's witty, irreverent and a lot of fun.
"We've always felt that HD or Blu-Ray just didn't matter if the movie still sucked," says "DVD Geeks" co-host and resident "Televixen" Mary Czerwinski. "Our whole purpose is to find the most worthy among the 85,000+ titles currently on the market."
"DVD Geeks" airs Saturday Nights at 9:30pm Eastern / 6:30pm Pacific on America One affiliates across the country. Check http://www.americaone.com/home.htm for station details, and check http://www.dvdgeeks.tv for more information.
Photos, clips and press materials available from 847.563.8322
About Stone Face Produtions
Stone Face Productions, LLC is a Chicago-based entertainment production company. Shows developed include "DVD Geeks," "Bif Bam Pow Wow!" on OnNetworks, "Chef-on-a-Stick" and others.
About America One Sports & Entertainment
America One is an independent full-service syndication and distribution television network for quality sports and entertainment programming. America One programming is seen in over 60 percent of the United States, Puerto Rico, and Mexico via nearly 190 broadcast television and regional sports networks. America One has quickly become a leader in innovative sports and entertainment television syndication, sales and marketing. America One Sports & Entertainment is a wholly owned subsidiary of USFR Media Group, Houston, Texas.
###