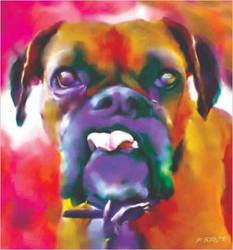 The hollow feeling when my long-time companions, Rocky and Meg, passed was as if my heart was spiraling down a hole with no bottom.
Buellton, CA (PRWEB) May 29, 2008
Dog Lovers Wine Club has just completed shipping of their May club shipment. The shipment contains a Santa Barbara County Tempranillo graced with a painting of Annie the Boxer.
"The hollow feeling when my long-time companions, Rocky and Meg, passed was as if my heart was spiraling down a hole with no bottom." says Teresa Rossi Clay of El Sobrante, CA. Over the next few months, she looked at various web-sites in search of a new love. Eventually she found a scrawny little female boxer at Contra Costa County Animal Services in Martinez, CA that was very thin and had a definite under-bite and the largest tongue ever seen. She looked as though she had been on the streets for awhile. When the little boxer became available, she received a message loud and clear from Meg & Rocky, it was time. Her name would be "Annie". She called her husband, Jim, on the drive home with Annie and after describing her, he humorously said, "Now you're telling me we're going to have a dog who sticks her tongue out at us all the time!?"
Annie has filled a huge void for Teresa and Jim, her label graces a full-bodied 2006 Tempranillo from Santa Barbara County. Buy her wine here.
Summer is nearly here! And to celebrate, everyone who signs up for a wine club membership at our web site will receive their first wine shipment FOR JUST $2. It's the "2 Buck Mutt" special and it's the perfect gift for that special dog lover in your life. A great Father's Day gift!
Here's how Dog Lovers Wine Club works:
Visit DogLoversWineClub.com to get your "$2 Buck Mutt" discount. Just like many wine of the month clubs, you can choose to receive wine shipments monthly, bi-monthly or even quarterly. Each month, the wine is accompanied by inspirational stories of American families and the special Dogs that have touched their lives. Each wine label is illustrated by selected photos (and stories) submitted from dog lovers across the country. The wine shipments also include tips about dogs, tasting notes about each featured wine, the source of the grapes and suggested food pairings.
You can also order custom labeled wine, just send in a picture and they will create a beautiful photo or painted label for you.
For more information, email us at info@dogloverswineclub.com or call toll free 877-919-WINE.
Media Opportunities: Video and additional images are available upon request. Interviews with the co-creators of Dog Lovers Wine Club are also available upon request.
Contact: Fleet Hamilton / 805-693-8990 / Fleet@DogLoversWineClub.com or
Matt Hahn / 805-504-4788 / Matt@DogLoversWineClub.com
ABOUT DOG LOVERS WINE CLUB:
Dog Lovers Wine Club is a boutique winery, based in California, which offers carefully crafted premium wine and illustrated labels to support animal shelters and rescue organizations around the country. Custom labeled wine is also offered - you can put just about anything on a label.
Shipping States:
Due to individual state alcohol laws, wine shipments are legally limited to AZ, AK, CA, CO, DC, FL, GA, ID, IL, IA, LA, MI, MN, MO, NH, NV, NM, NY, NC, ND, OH, OR, TX, VA, WA, WV, WI, WY.
###