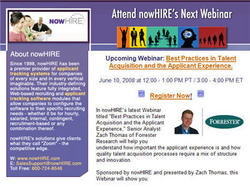 Detroit (PRWEB) May 28, 2008
nowHIRE.com, a provider of applicant tracking and hiring management systems, will sponsor a webcast focused on the need for companies to be both creative and compelling in attracting and retaining top talent.
Presented by Zach Thomas, senior analyst with Forrester Research, the webcast is titled Best Practices in Talent Acquisition and the Applicant Experience and will be broadcast on June 10 at 12:00 p.m. PST (3:00 p.m. EST).
Thomas will provide an overview of how candidates increasingly use online tools to conduct job searches and apply for jobs. Thomas will also present how companies can best focus their talent acquisition processes on the applicant experience, given the current trends of candidates.
In focusing on the applicant experience, he will provide an overview of tools companies can implement to attract the best talent. He will provide an understanding of how companies can develop the best career site for their organizations, leverage Web 2.0 to improve talent acquisition and capitalize on business networks to attract the right candidates.
Thomas will address the importance of integrating an applicant tracking system into the talent acquisition process. He will also present other processes companies should consider for recruiting, including screening and on-boarding tools.
To register for the hour-long free webcast, visit https://www1.gotomeeting.com/register/706503285
About nowHIRE:
Since 1998, nowHIRE has been the premier provider of applicant tracking systems for companies of every size and in every vertical imaginable. Their industry-defining solutions feature fully integrated, Web-based recruiting and applicant tracking software modules that allow companies to configure the software to their specific recruiting needs -- whether it be for hourly, salaried, internal, contingent, recruitment-based or any combination thereof. nowHIRE's solutions give clients what they call "Zoom" -— the competitive edge.
Media Contacts:
Joseph N Impastato II
nowHIRE
586-778-8491 (x15)
joseph.impastato(at)nowHIRE.com
Gail DeLano
Fisher Vista, LLC / HRmarketer.com
831-685-9700
gdelano(at)fishervista.com
Adriana Saldana
Fisher Vista, LLC / HRmarketer.com
831-685-9700
asaldana(at)hrmarketer.com
This press release was distributed through eMediawire by Human Resources Marketer (HR Marketer: http://www.HRmarketer.com) on behalf of the company
listed above.
###