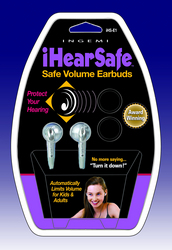 My goal is to keep as many kids as possible safe from noise induced hearing loss for generations to come.
Amherst, NH (PRWEB) May 28, 2008
We all have heard the warnings, turn it down or you will lose your hearing. It is true. Everyday more and more dangling earbuds are appearing everywhere you look and are exceeding the recommended 85 dB safe volume level.
Christine Ingemi, mother of four kids and President of Ingemi Corp, invented the iHearSafe technology because she got concerned and tired of telling her kids to turn it down. She searched for a product like this and realized there was not one to be found. So after a little research and a lot of hard work she is making a difference in the way young people can listen to their music while keeping it safe. Christine was recently the keynote speaker at Invent-a-Palooza at the Akron-Summit County Public Library Science & Technology Division in Akron, Ohio where her story inspired many future and current inventors.
She says the high demand for the iHearSafe Earbuds prompted her to expand the product line. "My goal is to keep as many kids as possible safe from noise induced hearing loss for generations to come." With over one hundred thousand iHearSafe Earbuds already sold throughout the US and Canada, Ingemi Corp has expanded their product line with the iHearSafe Headphones and iHearSafe EarWraps.
If we want to continue to hear our mp3 players (or anything at all) we better take simple preventative measures. iHearSafe does exactly that for us. It takes the guess work out of how loud is too loud. iHearSafe is the only patent pending technology to limit the volume to always stay at a safe level no matter how high the volume is cranked up. With iHearSafe you also get the benefit of hearing your surroundings safely.
Too often tragic and avoidable injuries happen because of mp3 listening kids and adults can't hear what is around them. Parental controls are deleted in a nanosecond with today's tech savvy kids. iHearSafe cannot be circumvented. No parental controls or software to download, just plug and play. Works with all audio devices including mp3 players, computers, dvd portable players, hand held video games, tv, etc.
iHearSafe is not just for kids, it is also for responsible adults. iHearSafe meets NIOSH and OSHA guidelines and has been tested by several Audiologist and also has been approved by the United States Navy for their use. Many companies and their employees are ordering iHearSafe to abide by OSHA volume guidelines in order to still be able to use their personal music devices at work
iHearSafe, by Ingemi Corp, has been awarded the Pogie Award by tech guru David Pogue from the New York Times and MSNBC - CNBC. iHearSafe also was a finalist in The History's Channel's Modern Marvels Invent Now Challenge. Steve Wozniak (Woz) the co-inventor of Apple was a judge in the Modern Marvels Invent Now Challenge and awarded Christine Ingemi telling her, "I don't know anyone in the world that couldn't benefit from this product". Ingemi has had several appearances on CNBC The Big Idea with Donny Deutsch and The History channel's Modern Marvels.
Ingemi Corp received a Commendation from New Hampshire Governor John Lynch and has been semi-finalist in New Hampshire High Tech Council Award 2 years running. iHearSafe can be seen in May's Parenting Magazine in the Kids Health section under "Good Find". Available online at http://www.iHearSafe.com and coming to retail stores soon.
# # #