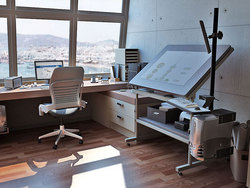 Every table and desk we design and manufacture appeals to wide variety of users
Los Angeles, CA (PRWEB) May 29, 2008
For about the past decade, Versa Tables has been well known for the durable, functional computer furniture it manufactures out of its Los Angeles, California based factory and sells around the nation. Just about every university, military base, and major corporation has at least one Versa Tables computer desk or table to boast about by now and that number just keeps on growing. What many people may not realize, though, is that Versa also manufactures one of the best lines of drafting tables and computer aided design accessories on the market today.
"We've actually been making the Professional Drafting Table and Versa Art Table series since the beginning," remarked Chris Stormer, Chief Operations Officer at Versa. "As with all of our products, though, we are constantly reworking and improving them and some of the updated accessories have recently enjoyed some much deserved praise from some notable professionals in the field of computer aided drafting. Take for instance, the Drafting Table CAD System. We installed a few hundred of these in a well known California university a few months back and the positive praise recognition since then has been unbelievable."
But colleges and classrooms are not the only place using the Versa series of drafting and art tables. Many of the major architecture firms and even home-based users have picked up on the tables and customized add-ons due to their high degree of functionality and durability. And the two main choices, the Professional Drafting Table and Versa Art Table, have enough diversity and versatility to suit the needs of just about every possible user. Both tables are height and tilt adjustable and can be customized to include accessories ranging from a top of the line CAD system for the Professional Drafting Table, to a simple, yet functional monitor platform for the art table.
"Every table and desk we design and manufacture appeals to wide variety of users," noted Stormer, and our drafting and art tables are certainly no exception. I had an architect from New York email me some pictures of his new office with a fully loaded Professional Drafting Table as the center piece and I was literally blown away...and I see that table in our factory every day! It's just as satisfying, though, to talk to a mom in Illinois who just bought her daughter the Versa Art Table as a graduation gift so she could work on her scrapbooking hobby with all of the proper tools."
With almost everything in the world involving computers to at least some degree these days, it's important to provide solutions that stay with, or even a step ahead of the trends. Versa Tables has seamlessly integrated the latest equipment to meet the needs of graphic designers, architects, hobbyists and artists with a standard that has been around for decades. Whether you do it for a living or just for fun on the weekends, Versa Tables most definitely has a solution that will satisfy even the most critical, demanding consumers.
###