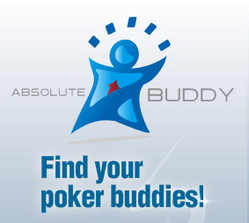 We're taking our online poker community to an entirely new level by making it easier for players to connect with one another
Miami, FL (PRWEB) May 28, 2008
Absolute Poker today announced the launch of Absolute Buddy, a convenient, complementary feature that allows online poker players to discover where their favorite players are seated and connect with them instantly.
"We're taking our online poker community to an entirely new level by making it easier for players to connect with one another," stated David Clainer, Senior Vice President for Absolute Poker.
Absolute Buddy is integrated into the Absolute Poker software. Computer users familiar with instant messaging applications like Windows Live Messenger, Google Chat and AIM will find the interface of Absolute Buddy familiar and incredibly easy to use.
Registered users can add their favorite poker players to Absolute Buddy and instantly discover when they're online and where they're seated. Players listed in bold represent those who are logged in to the Absolute Poker software. Online poker players seated at a table are denoted with a triangle to the left of their name. Clicking the triangle will display the table names where the player is seated. Poker players who appear in muted gray are not online.
Not only does Absolute Buddy display the table name where a poker player is seated, but the feature will also catapult the player to a table when its name is double clicked.
Clainer notes that while the new feature is extremely handy for discovering where your friends are playing, it's particularly useful for finding the players you've successfully beaten in the past.
Full details on Absolute Poker's new Absolute Buddy feature can be found at http://www.absolutepoker.com.
About Absolute Poker
Absolute Poker is dedicated to providing players from around the world with an online poker game experience that is second to none. Players worldwide can access Absolute Poker online 24 hours a day, 7 days a week from any PC or Mac and experience the best multi-player game online poker has to offer. Absolute Poker is committed to remaining the most trusted and best online poker experience, created by poker players for poker players.
###