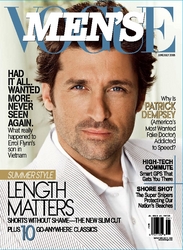 Then based on my past performance, it became, 'Oh, you're such a hypocrite,'
New York (PRWEB) May 28, 2008
In the June/July Men's Vogue, Eric Banks profiles artist Chris Burden, whose massive Erector Set installation What My Dad Gave Me debuts on Wednesday, May 28, 2008, in front of Manhattan's Rockefeller Center. The engineering impulse that lies behind What My Dad Gave Me is as sharp as its steel Erector edges: His father, an engineer, worked at Rockefeller Center in the fifties.
According to Banks, Burden has made sacrifices for his work since he helped redefine the art world in the early 1970s. Burden notoriously emerged on the art scene with his 1971 M.F.A. thesis in which he had himself locked in a two-by-two-by-three-foot school locker for just under a week ("Five Day Locker Piece"). And he continued to push the envelope with provocative performances that critics defined as "social sculpture." In "Shoot" Burden had himself shot in the left arm with a rifle at 15 feet in a studio in Santa Ana.
Banks recounts how years later "Shoot" was to haunt Burden when he was tenured at UCLA. For a final work in a performance-art class, a student put a bullet in the cylinder of a replica pistol, spun it, pointed the barrel to his temple, and pulled the trigger. Though the gun didn't go off, Burden did not take the "Shoot" knock-off as a compliment. "I should have retired years before the thing," he says.
Over the years Burden had watched UCLA change: "As we became higher-profile, the school attracted a different kind of student, and a different kind of faculty too. The students thought this was going to be their pedigree, their meal ticket. It just became weird… And finally this thing happened with that kid. I refused to go on campus unless they put a restraining order on him, just on principle."
For the artist, the performance was a form of "domestic terrorism," and when the university wouldn't discipline the student, both Burden and his wife resigned their professorships: "Then based on my past performance, it became, 'Oh, you're such a hypocrite,'" he explains. "Well, I wasn't a student, folks. I did that in my own place, not on campus. The whole university setting is very constrained by all kinds of rules: no swearing, no 'Your hair looks cute, Betsy Lou' -- boom -- sexual harassment. Bullshit. I thought, 'You know guys, I gave,' and so when they pulled that thing, I was just out of there."
Today Burden has yet to abandon his curiosity concerning the limits of endurance and space. Banks explains that What My Dad Gave Me is so large (a 65-foot-tall "skyscraper") that it had to be assembled in three sections in his studio and airlifted by helicopter to be put together elsewhere in Los Angeles. "To get it here, we'll have to close down Fifth Avenue," says Rochelle Steiner, director of New York's Public Art Fund, which is presenting the work. "One of the things I love and respect about Chris is that he's really hands-on -- the sheer putting together of a work of almost a million pieces. But it's also the hands -- on mental thinking that goes into it. It's not like, 'I have an idea, can you figure out how to make it stand up?'"
For more on Chris Burden and for extended coverage of this issue go to http://www.mensvogue.com.
For more information, contact Elissa Lumley at 212-286-2225.
###