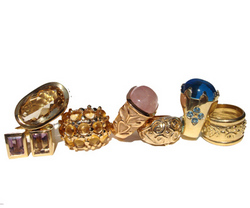 my pieces have a timeless appeal that transcends trends and seasons but at the same time are glamorous, sensual and comfortable
Santa Monica, CA (PRWEB) May 29, 2008
Jewelry designer, Ana Cavalheiro unveiled her 2008 debut fine jewelry collection for women online at http://www.anacavalheiro.com.
Making use of bold colors and innovative designs this iconic gold line of rings, earrings and necklaces is carefully handcrafted in 18K and 14K gold and uses precious and semi-precious gemstones. Each piece in the collection is meticulously hand-wrought in the designer's studio and is limited edition.
Among the highlights of Cavalheiro's 2008 debut collection are the cocktail rings handcrafted in 18K yellow gold and overflowing with carats of colorful gemstones. Also highlighted are the 18K and 14K gold earrings and necklaces whose designs are influenced by traditional European tile designs.
Inspired by vibrant colors and traditional Portuguese jewelry, Ana's designs bring together her appreciation of the timeless classic with the modern lines. "I'm often inspired by romantic and medieval motifs that I combine with bright and colorful gemstones" says the designer, "my pieces have a timeless appeal that transcends trends and seasons but at the same time are glamorous, sensual and comfortable".
Ana Cavalheiro Fine Jewelry made its debut this month. For more information please contact the designer Ana Cavalheiro at 310-804-0076 or visit online at http://www.anacavalheiro.com.
About Ana Cavalheiro Fine Jewelry
Ana Cavalheiro Fine Jewelry started in the spring 2008 in the designer's studio in Santa Monica. After years of working in Finance and Marketing in Europe, Ana decided to turn her passion for jewels into a full time jewelry business. She did her apprenticeship for two years in Paris at the "École du Louvre: Bijouterie, Joaillerie, Orfèvrerie Formation" where she learnt to handcraft jewelry in the traditional European way.
###