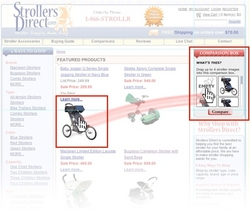 This tool brings all of the information together on one easy to read screen.
Lafayette, LA (PRWEB) May 29, 2008
Strollers Direct, an online retailer of baby strollers and stroller accessories, recently launched a new comparison tool that makes the stroller selection process easier for customers. The Strollers Direct Comparison Tool generates a side-by-side comparison with 18 product features. When customers shop online, having product information available visually is crucial to the selection process. This comparison tool makes it easier for customers to see what each product has to offer without the hassle of toggling between product pages. "Online customers want to see product information in one place. If they don't they'll move onto the next site", says comparison tool developer, Aaron Lozier. "This tool brings all of the information together on one easy to read screen."
The Strollers Direct Comparison Tool features a unique drag and drop design that allows customers to click on any product image and drag it into the comparison box. Customers can drag and drop up to four strollers into the unique comparison box for an instant comparison based on 18 features including average customer rating, capacity type, weight capacity, wheel size, folded dimensions, stroller weight and price. "Parents are often torn between two or three strollers, this tool allows them to see at a glance which one has everything they want," remarks Elizabeth Catalanotto a Strollers Direct representative. Customers can easily remove and replace strollers in the comparison box as often as they like while shopping, and they can even add items to their shopping cart from the comparison box. To learn more about using the Comparison Tool interested parents can visit the Strollers Direct website.
Strollers Direct is a leading online retailer of the most popular stroller and stroller accessories including top brands like Maclaren, Peg Perego, Bugaboo, Mountain Buggy and Baby Planet. Strollers Direct is dedicated to helping parents select the best stroller for their family's lifestyle. For information on how to choose the right stroller and to shop from the largest selection of strollers online, visit http://www.strollersdirect.com.
###