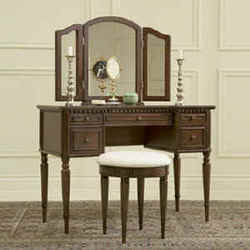 San Diego, CA (PRWEB) May 29, 2008
Premiere Vanities is thrilled to offer a new and inspired line of bedroom vanities for those who like the old world charm and convenience of a bedroom vanity. Premiere Vanities has introduced this specialty line of bedroom vanities in response to an increase in the requests for quality craftsmanship and beautiful bedroom vanities as well as bathroom vanities.
These bedroom vanities come in a variety of styles, so that they can match any home décor. All of the bedroom vanities in this specialty line are constructed with quality workmanship practices, and come in a variety of finishes to match any kind of bedroom furniture. Whether you have incorporated contemporary interior design and would like a metal bedroom vanity, or you prefer traditional or antique décor wooden styles, this top of the line bedroom vanity furniture will give you aesthetics and functionality.
These nostalgic bedroom vanities are an example of the variety of vanities available by those zealous vanity specialists at the Premiere Vanities Company website: premierevanities.com. Premiere Vanities is proud to have these beautiful and functional bedroom vanities added to their collection of bathroom vanities. As the demand for unique and personalized bedroom vanities increases, Premiere Vanities supports the idea that vanity specialists should meet it with equally well-made and creatively inspired vanities.
About Premiere Vanities:
Premiere Vanities is the leading online source and retail site for bathroom vanities, with a passion for making every bathroom a stylishly unique and beautiful room in the home. They offer a wide selection of single bathroom vanities, double bathroom vanities, vanity sets, bathroom cabinets, bathroom furniture and now bedroom vanities. With vanities in antique, wood, traditional, and contemporary interior design styles, we are confident that our customers can find bathroom and bedroom vanities that will be chic and beautiful additions to their homes. Premiere Vanities offers quality bathroom and bedroom vanities and furniture at low prices, with free shipping in the continental U.S., and a great customer service experience.
###