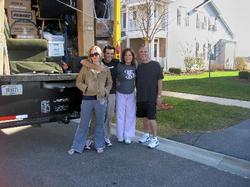 Las Vegas, Nevada (PRWEB) May 29, 2008
A California family has sued Las Vegas Sands, LLC, Venetian Casino Resort, LLC, and Manpower Inc. following the theft of their moving truck from the Venetian's secured parking lot.
The lawsuit alleges that while moving cross-country from Chicago to Los Angeles during the Thanksgiving holiday of 2006, the Krzyston Family made an overnight stay at the Venetian Hotel and Resort. The family was instructed by Venetian personnel to park their 26-foot Penske moving truck, loaded with all of their belongings, in a lot specifically used for oversized vehicles. They were assured that the lot was secure and guarded 24 hours a day. The next morning the family went to retrieve their truck, only to discover it was gone.
On Christmas Day 2006 the moving truck was found emptied, parked in front of a downtown Las Vegas hotel.
After a few months had passed and still no leads in the investigation, Las Vegas Metro Police used a sting operation and set up a decoy U-Haul moving truck rigged with their own GPS and other surveillance equipment. After a few hours the truck was stolen. Police followed the truck to a nearby storage facility where they made an arrest and found over 17 storage units packed with stolen items. Unfortunately, the Krzyston family was only able to recover less than 5% of their items. All of their furniture, electronics, family photos, and priceless mementos have never been found.
There are 10 causes of action listed in Case A562888 including Gross Negligence, Conversion, Contractual and Tortious Breach of the Implied Covenant of Good Faith and Fair Dealing, Constructive Fraud, Intentional and Negligent Infliction of Emotional Distress, and Negligent Supervision, Hiring and Training.
Complaint has been filed in the District Court of Clark County, Nevada.
Upon request the actual court complaint and documents.
###