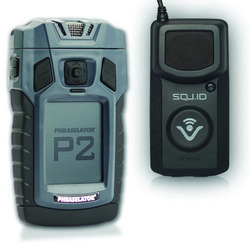 Aardvark Tactical's supply sets are sought after by our nation's service members abroad because they include the best of both worlds: Integrated component configurations that meet critical needs and superior products designed with direct feedback from warfighters in the field carrying out both tactical and humanitarian missions
Annapolis, MD (PRWEB) May 29, 2008
Voxtec International, Inc., developer of the world's most trusted language translation systems, announces that it has partnered with Aardvark Tactical, Inc., a leading tactical supplier and systems integrator for all branches of the U.S. Armed Forces, to provide its Phraselator P2 handheld translation system to service members deploying to the Middle East in support of the Global War on Terror (GWOT).
"The Phraselator has been selected by the Department of Defense to support several Rules of Engagement within the scope of current Military operations," said Jon Becker, President of Aardvark. "With accurate translation capabilities at their command, Soldiers can complete their missions more easily and securely."
The Phraselator is included in several mission-specific, tactical supply sets available from Aardvark to properly outfit service members assigned to specific Rules of Engagement. The sets featuring the Phraselator P2 include: Force Protection Capability Set for U.S. Marine Corps; Brigade Combat Team (BCT) Set for the U.S. Army; and the Escalation of Force (EOF) set for the U.S. Army. Soldiers and Marines provided with these sets will be able to use the Phraselator P2 for critical communication needs in a variety of scenarios, including crowd control, riot control, convoy operations and checkpoint operations.
The Phraselator P2 allows users to command thousands of key phrases, instruction steps and words, which have been translated into foreign languages by fluent speakers, providing them with reliable, tactical, one-way translation capabilities in several key languages spoken prominently throughout the region including: Arabic, Dari, Iraqi, Kurmanji, Pashto, and Urdu. Phrases are clearly broadcast on the system's weatherproof speaker or through an attached loudspeaker. The Phraselator P2 also allows users to record several hours of speech in a speaker's native language for later translation, making it a valuable interview tool.
"Aardvark Tactical's supply sets are sought after by our nation's service members abroad because they include the best of both worlds: Integrated component configurations that meet critical needs and superior products designed with direct feedback from warfighters in the field carrying out both tactical and humanitarian missions," said John T. Hall, President of Voxtec. "Aardvark's supply sets provide Voxtec with an enviable distribution mechanism to deliver our Phraselator P2 translation systems around the world in support of the Global War on Terror."
About Voxtec International, Inc:
Through its rapid spiral development product release process, Voxtec International develops and manufactures machine-based language translation systems. Voxtec systems include the handheld Phraselator® P2 and the wearable SQUID™ SQ.200, in use by Military Forces, First Responders and Corrections Officers around the world. To support its language translation systems, Voxtec produces distinctive language modules in over 40 languages. Voxtec's proprietary Module Builder PRO™ software enables users to design, customize and update their own language modules using a computer and a human translator. Voxtec creates world-class products through its commitment to advancing voice technology. For more information, please visit http://www.voxtec.com.
About Aardvark Tactical, Inc.:
Founded in 1987, Aardvark Tactical, Inc. (ATI) is one of the largest suppliers of nonlethal weapons, riot control, force protection, and tactical equipment in the United States. ATI's core business runs the gamut from simple distribution of products for police officers to complicated military system integration projects going to dozens of destinations. In its 20+ year history, ATI has provided equipment and/or training to literally thousands of military and civilian law enforcement units all over the world and has participated on some level in all of the significant military and police operations in recent history. For more information, please visit http://www.nonlethal.com.
###