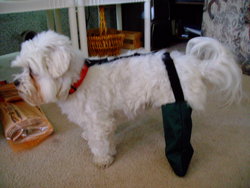 I believe that veterinarians will now have a higher level of confidence in trying the Strock since it has an official patent number assigned. I have learned that most veterinarians are inundated with new products being 'pitched' to them quite frequently and that they just do not have the time to try each one, especially those without a track record or patent number
Longmont, CO (PRWEB) May 30, 2008
The owner and founder of Best Buddy Pet Products, Lyn Townshend, is announcing that the patent for her invention of a waterproof leg covering for dogs has been granted and assigned number D560,317. Dubbed "The Strock™", this covering is a combination of straps and a waterproof "sock" portion that covers a dog's leg and secures over their body to prevent removal. The Strock is suitable for dogs of all sizes and breeds and comes in a range of sizes from Extra Small all the way up to Extra Large. The name "Strock" is simply a combination of the two words "strap" and "sock" and was chosen because it is simple and easy to remember.
"With this assigned patent number comes the credibility needed for the veterinarians to give this product a try. This leg covering is a better product than the Elizabethan collar because an animal's entire body is not restricted when that is just not necessary. Plus, a dog can remain active and mobile while healing from surgery, lick granulomas or a variety of other health problems. I have heard the same complaint from many veterinarians that most pet owners are reluctant to use the E-collar because it seems like too much discomfort and restriction for their dogs. That reluctance, or outright refusal, to use the prescribed E-collar prolongs the healing process," according to Townshend.
Obtaining the final patent D560,317, took nearly 2 years for Townshend to complete. The Strocks have remained available to pet owners and veterinarians throughout that entire process through the Best Buddy Pet Products website, http://www.bestbuddypetproducts.com. Townshend has special wholesale pricing in place for veterinarians; however, those are not shown on the website. Until the patent was obtained, Townshend believed that getting pet owners to purchase the Strocks and then show their vets the effectiveness provided in healing wounds was a valuable way of gaining exposure to the very busy veterinarian industry.
"I believe that veterinarians will now have a higher level of confidence in trying the Strock since it has an official patent number assigned. I have learned that most veterinarians are inundated with new products being 'pitched' to them quite frequently and that they just do not have the time to try each one, especially those without a track record or patent number," says Townshend. "I now have both in place having done my due diligence of learning that was necessary for credibility."
To view The Strock™ and get ordering details, please visit Townshend's company website, http://www.bestbuddypetproducts.com.
# # #