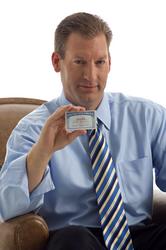 As the industry leader, we're constantly adding new services, like WalletLock, eRecon and TrueAddress, in order to continue to provide the most comprehensive, proactive approach to protecting our members
Tempe, AZ (PRWEB) May 29, 2008
LifeLock®, the industry leader in identity theft protection, reached a major milestone recently with the signing up of its one-millionth member. It's being hailed as a significant accomplishment for a company that only signed its first member in June 2005. The company also hired its 335th employee and was named a finalist for seven American Business Awards, recognizing the organization for a variety of "best in business" practices.
As the leader in proactive identity theft protection, LifeLock begins by requesting, on behalf of its clients, the national credit bureaus place free fraud alerts on LifeLock members' credit files. They also request their members' names be removed from pre-approved credit card and junk mail lists. In addition, members receive LifeLock's WalletLock™, eRecon™ and TrueAddress™ services. WalletLock works to cancel and replace all documents and personal identifying information inside a lost or stolen wallet. An ongoing patrol of over 10,000 websites where criminals illegally trade and sell information, eRecon searches specifically for LifeLock members' Social Security numbers, credit card numbers, driver's license numbers and email addresses to make sure they're not being sold or traded. LifeLock's TrueAddress service alerts members if they have had a change of address form filed in their name, a tactic used by identity thieves to reroute consumers' mail to the thief's address. Of course, all LifeLock members are backed by LifeLock's $1 million service guarantee.
"As the industry leader, we're constantly adding new services, like WalletLock, eRecon and TrueAddress, in order to continue to provide the most comprehensive, proactive approach to protecting our members," said LifeLock CEO Todd Davis. "As we continue to grow our service and attract more members, we will also continue to enhance our offering to maintain LifeLock's role as the source for comprehensive identity theft protection."
The Federal Trade Commission reports that in 2007, more than 800,000 Americans registered more than complaints related to identity theft. One of the fastest growing crimes in America, identity theft has topped the FTC's list of consumer complaints for the seventh straight year, at a cost to Americans of $1.2 billion annually.
As one of the fastest growing companies in Arizona, LifeLock has more than doubled in memberships since January. The LifeLock system of proactive identity theft protection is an approach that certainly seems to work. According to the FTC website, 3.7 percent of the population or approximately 8.3 million people were victims of identity theft. Applying the 3.7 percent figure to the LifeLock membership base would mean that 37,000 members should be victims of identity theft. However, only 105 out of 1,000,000 LifeLock members have ever needed to utilize the organizations $1 million total service guarantee. That's a success rate of 99.9 percent, and all 105 had their good names completely restored by LifeLock service guarantee- proving that LifeLock's industry leading proactive approach is truly effective.
While offering a service to protect consumers from the growing threat of identity theft, LifeLock also takes a proactive approach in educating consumers on the variety of options available from the "do-it-yourself" approach to the various other services available. Since January 2008, LifeLock has made more than 50 presentations to various groups across the country, educating individuals on the threats of identity theft as well as options available to them both free and through services.
As LifeLock continues to grow its membership, partnerships with Office Depot, the National Rifle Association, CVS Pharmacy, U.S Airways, Northwest Airlines and various AAA clubs, are proving to be integral as more and more Americans are turning to those groups that they trust for LifeLock's complete identity theft protection services.
"We understand the need and the proven value of this prevention tool and believe that it is a perfect fit for our 3.2 million members as well as for our employees," said Wayne LaPierre, NRA Executive Vice President. "It is our goal to partner with organizations such as LifeLock, who are leaders in their respective fields, as we continue to build on our strong foundation of member benefits."
About LifeLock®
Famous for its CEO giving out his Social Security Number in advertising and national press, the company is experiencing strong growth. Located in a secure facility in Tempe, Arizona, LifeLock® (http://www.lifelock.com) is a private company backed by Goldman Sachs, Kleiner Perkins Caufield and Byers, as well as Bessemer Venture Partners. Winner of the 2007 American Business Award for the Best Radio Advertising Campaign, LifeLock was a finalist for 10 other ABA awards, including Best New Company and Best New Product/Service. Recently the company was named recipient of the Red Herring 100 Global Award as one of the Top 100 start-up's in the world and was listed among the finalists for the Best Places to Work in 2007 by the Phoenix Business Journal.
###